Module 6: 1800–1900
Learn about the art of the Pre-Raphaelites, Impressionists and Post-Impressionists with Dr Amy Mechowski
About
From the invention of the steam locomotive to the abolishment of the slave trade, the 19th century was an age of unprecedented cultural, political, and social change.
Learn how this period of experimentation, discovery and industrialisation challenged the existing order of society and changed the prevailing definitions of art.
This six-week module explores how concerns around modernity and tradition, popular and high culture, social class and gender, race and ethnicity, influenced both the artists and collectors of this new age.
Each week we examine a theme that defined the age and explore its impact on paintings in the National Gallery and beyond, with a focus on Delacroix, Constable, Millais, Monet, Morisot, Van Gogh and others.
Week 1: A new age and a new gallery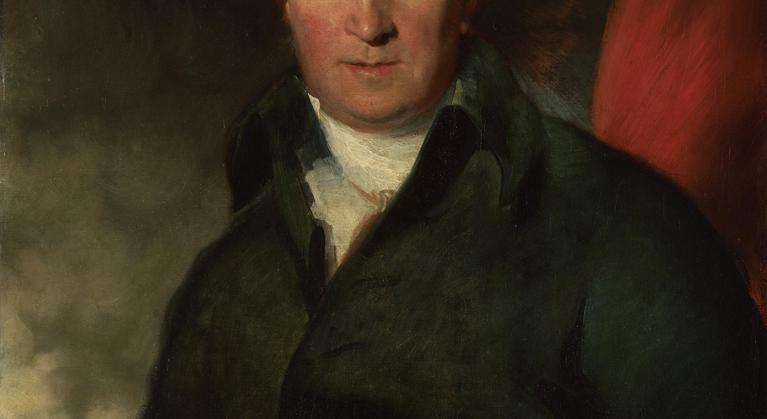 With the foundation of the National Gallery in 1824 and the opening of the present building in 1838 (the year of Queen Victoria's coronation), the formation of this national institution and its collection lies at the very heart of histories of 19th-century painting.
In this first session, Dr Amy Mechowski will set the stage, giving an overview of the module and introducing the period. We will also be joined by the National Gallery's Senior Research Curator (History of Collecting), Dr Susanna Avery-Quash, who will speak on the National Gallery's foundation and its development under Sir Charles Eastlake.
Week 2: Academies and rivalries
The critical role of Academies of Art in artists' training, public taste and official patronage was well-established by the mid-century – as artists vied for recognition, validation, and visibility.
The rivalry between French artists Ingres and Delacroix has often been seen as a conflict between the period's tradition-based Neoclassicism and a non-conformist Romanticism.
Meanwhile, Romanticism (itself a disputed category) presented a battle ground of its own for British artists Turner and Constable as they grappled with utopian and dystopian visions of an industrialised world.
Week 3: Realism, naturalism, and representation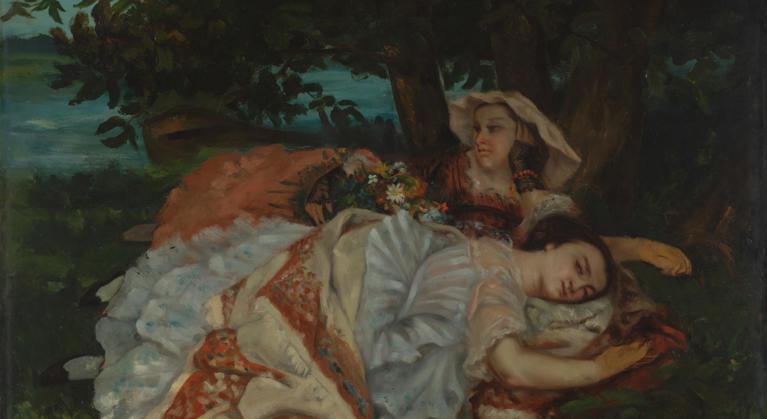 As the authority of the Academies began to be challenged by what would later be regarded as avant-garde movements, artists exhibited radical works, which opened up institutional critiques.
With the Realists, represented by Courbet, Millet, and Manet in France and important contributions to social realism by members of the Pre-Raphaelite Brotherhood and others in England, direct observation came to the forefront of artistic practice. The relative success of efforts to convey a truthful and objective vision of the world is brought into question when viewed through the lens of gender, empire, and religion.
Our guest speaker, Dr Jenny Graham, will re-think the 'realism' of the Pre-Raphaelite painter William Holman-Hunt's Holy Land pictures, by exploring them in relation to travel and colonialism.
Week 4: The painter(s) of modern life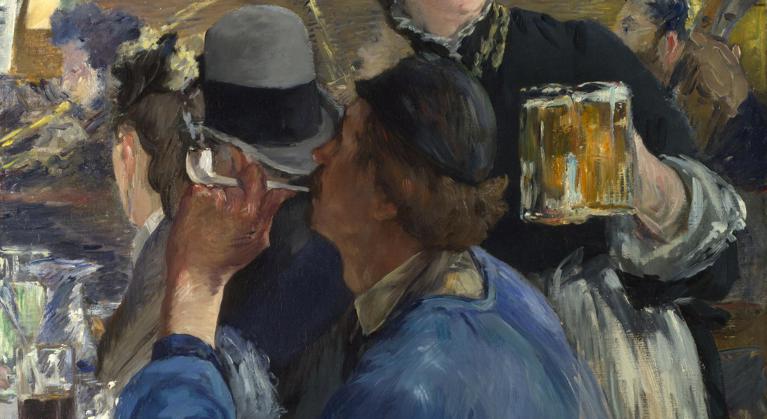 The imagery of contemporary life and modern subjects was embraced by artists who were heirs to a Realist legacy – not only in France, Britain, and the United States, but also in Scandinavia, Germany and Eastern Europe.
Played out in the spaces of modernity – the street, the café, the shop, the opera and theatre, the interior, the garden and the park – developments in painting were shaped by shifting social, cultural and political structures. These were manifested in challenges to the hierarchy of genres in painting as well as themes of identity, representation, and performance. We will especially focus on a crisis in the genre of the nude to explore these issues.
Week 5: The advent and advance of Impressionism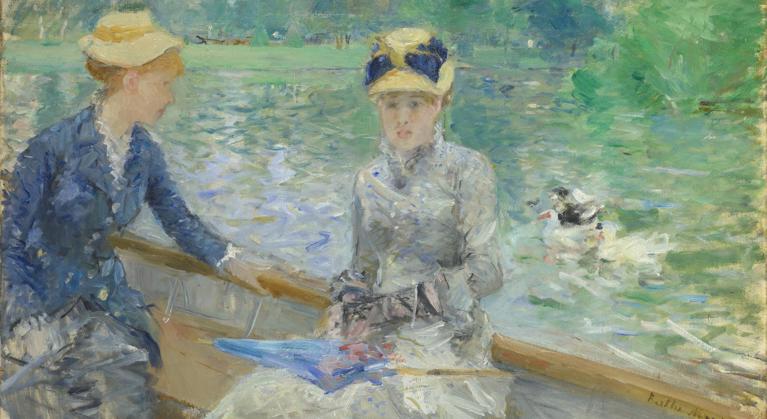 From their first independent exhibition of 1874, the group of artists that would come to be known as the Impressionists forever changed approaches to painting in subject and technique with a new visual language to depict modern life.
Significantly, the work of women artists, who were regarded by their contemporaries as important members of this group, emerged within the context of representations of femininity. And at a moment when both gendered social spheres and national schools of painting were called into question, American artists such as John Singer Sargent and James McNeill Whistler moved freely between French and English artistic and social circles with success.
After the break, guest speaker Dr Jenny Graham will speak on Whistler's paintings and the theme of 'whiteness', with reference to race, gender and the public display of art in London and Paris.
Week 6
With the last of the independent exhibitions in 1886 came the debut of artists for whom the English painter and art critic Roger Fry would coin the term 'Post-Impressionists' 20 years later.
Georges Seurat, Vincent van Gogh, Paul Gauguin and others explored the abstract and symbolic in colour, form, subject, and technique. From the exploration of issues of class and theories of colour to the exotic and 'primitive,' the work of these artists both called into question and perpetuated notions of social and cultural difference. It was their contemporary, Paul Cézanne, however, who would be declared the founder of 20th-century Modernism within the canon of the history of art.
The module will conclude by drawing out some of the key themes and ideas explored over the past six sessions.
Your tutor
Dr. Amy Mechowski is a freelance art historian, lecturer and curator, specialising in issues of sexuality and gender in nineteenth‐century art and material culture. Among her most recent publications is a chapter in 'Sculpture, Sexuality and History', exploring the display and reception of 19th‐century sculptures of the female nude in the V&A (Palgrave, 2019). Previously working as a Curator at the Museum and as Head of the V&A Academy, she now leads courses for Sotheby's Institute of Art.

Watch again
Can't make Wednesday evenings but don't want to miss out? No problem, you can watch again.
'Stories of art' sessions are recorded and made available to you for one week.
A video of the week's lecture will be uploaded on Friday afternoons, in time for the weekend. You will be able to find the video by checking back to the page where you accessed your handouts for the week's session. Just be sure to watch it by the following Friday lunchtime, as it will be taken down on Friday afternoons.
Format
Each session lasts for 2 hours and includes a lecture delivered by course lecturer Dr Amy Mechowski, followed by a short break and further discussion.
Several of the sessions feature an in-depth contribution from a guest speaker or Gallery expert.

Time will be allowed for questions and discussion via Q&A. We will also be joined by a guest art historian, who will help to answer as many questions as possible.
Handouts are supplied on Tuesday mornings.
Optional homework is provided to help you prepare for the following week's session.
Booking information
This is an online ticketed course, hosted on Zoom. Please book a ticket for the six-week module.
Once you have booked your ticket for the module, you will receive a confirmation email, with your Zoom link. It will also be resent to you the day before the session, along with your handouts.
Your link will be valid for the duration of the module.
Booking after the module has started
You are welcome to join the module at any point during its six-week run. However, please note that you will only be able to see the recording from the previous session, as these are taken offline after one week.

A closer look
Would you like to discuss relevant paintings and themes from your lecture course, in a friendly, informal group?

This weekly small group session led by Gallery Educators, provides an opportunity to complement and consolidate your learning from the previous 'Stories of art' session, through a short talk, group discussion and close looking.
Places are limited to 20 people.
'A closer look' takes place as a Zoom meeting, on Tuesday afternoons from 4-4.50pm, from Tuesday 8 June. Unlike the 'Stories of art' webinar lectures, these discussions are not recorded, and participants are visible to one another. Attendees will receive a separate Zoom link for 'A closer look' sessions.
To book your place for 'A closer look', add this option to your basket when you purchase 'Stories of art', or email tickets@ng-london.org.uk.
Upcoming modules
'Stories of art: Module 7: 1900-2021' will run on Wednesdays from 14 July-18 August, led by Lucrezia Walker.
Tickets will go on sale later this spring.
Courses
Module 6: 1800–1900
Learn about the art of the Pre-Raphaelites, Impressionists and Post-Impressionists with Dr Amy Mechowski
Tickets
Standard: £75
Concessions: £70
Concessions are for full-time students, jobseekers, and disabled adults.