Module three: 1500–1600
Discover Renaissance paintings by artists including Leonardo, Michelangelo, Raphael, and Titian.
About
Join National Gallery experts for a lecture-based course using our collection to explore key themes such as faith, artists' materials, society, and stories in art.

Special tour option
People enrolling onto the entire module have the option of also purchasing 60-minute Gallery tours of relevant paintings held after each week's session. (4.15–5.15pm).
Places are limited.
Part one
Introduction: The politics of art in 16th-century Europe
We will begin this module by exploring the different forms of government across Europe, and consider powerful families who became great patrons of art.
Part two
Faith
During the Reformation, vast tracts of Europe destroyed the art it had cherished for centuries. Meanwhile, the rest of Europe continued to put art to use, expressing firmly held beliefs. We shall examine the difference between the ways Protestants and Catholics produced art.

Part three
Rivalry and collaboration
The 16th century saw some of the most notorious artistic rivalries - between Michelangelo and Leonardo, for example, or Michelangelo and Raphael. But it was also a time when collaboration thrived, and remarkable ensembles were created by a multitude of artists.

Mythology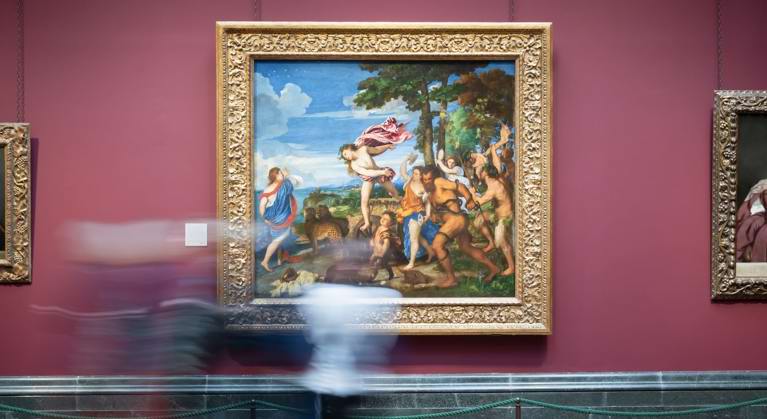 From the start, the Renaissance was inspired by the Classical past. We will look at mythological imagery from across Europe, but will focus on one of the the greatest collaborations between a patron and an artist - the series of paintings known as the 'Poesie' which Titian created for King Philip II of Spain.

Part five
Portraiture
By the 16th century portraiture was well established across the continent as a way of making the absent present, memorialising the deceased, and creating a more-or-less accurate representation of the subject, showing both their appearance, and their character.

Part six
Questions of style
What exactly do we mean by the terms High Renaissance, Mannerism, and Baroque? To what extent are these true 'styles' or are they really meaningless categories imposed by art historians? Do these words help us to understand the art, or are they merely labels?
Stories of art
The full Stories of art course consists of six modules, although each module stands alone.
Stories of art is ideal anyone looking for an introduction to art history or who wants to consolidate their knowledge of paintings from about 1250 to 1925.
We provide optional exercises for those who are interested in additional study.
Your tutor
Dr Richard Stemp lectures on art history and guides throughout London and across Europe. His London specialities are the National Gallery, Tate Modern, Tate Britain, the Wallace Collection, and Buckingham Palace.

He has written books on the Italian Renaissance and churches and cathedrals, as well as presented two series for Channel 4 TV, 'Art in the National Gallery' and 'Tate Modern'.
Courses
Module three: 1500–1600
Discover Renaissance paintings by artists including Leonardo, Michelangelo, Raphael, and Titian.
Tickets
Attend individual session
Standard: £30
Concessions: £28
Attend all 6 sessions
Standard: £150
Concessions: £144
Buy Stories of art
Buy all six modules of Stories of art and save.
Standard: £900
Concessions: £864