1700-1800
From the Rococo to the Enlightenment, discover the art of Watteau, Hogarth and Vigée Le Brun with Dr Richard Stemp
About
The 18th century was an important period of change. The death of Louis XV in France led to a relaxation in court life, cultivating a far lighter touch in French art, and the development of the Rococo. Meanwhile, Britain was still catching up with the Italian Renaissance, the classical styles and ideas of which now penetrated British art and architecture.
As the old regimes of Europe tried to hold onto their position in society, the frivolity of the aristocratic lifestyle resulted in moves towards new forms of government. Revolution in France, followed by Napoleon's invasion of much of Europe, changed everything that had come before.
This six-week module follows these dramatic changes across Europe, exploring their impact on the art of Fragonard, Watteau, David, Hogarth, Gainsborough, Stubbs and others.
Week 1: A lighter touch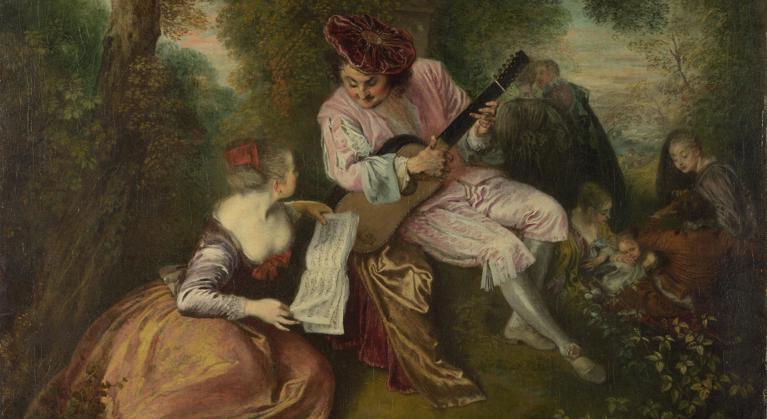 The power of Baroque art, with its bold, dramatic involvement of the viewer, and grandiloquent gestures, had been ideal for communicating the absolute monarchy at Versailles.
With the death of the Sun King, Louis XIV, and the ensuing Regency, the court returned to Paris and became more relaxed. One of the prophets of this new, lighter touch, was Jean-Antoine Watteau, whose work we will consider in depth.
Week 2: Defining the Rococo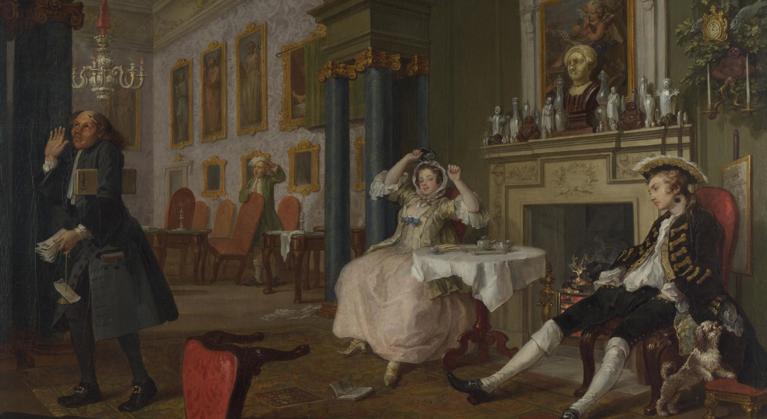 The work of Watteau, which we explored in the first lecture, can be seen as the precursor of a much-disputed style called the Rococo. But what does this word mean? Where does it come from, and does it constitute a style in its own right?
Examples from across Europe – including the works of Fragonard, Tiepolo and Hogarth – will not only suggest that it did, but will also question its reputation for frivolity.
After the break, guest speaker visual artist and sculptor Sonia E. Barrett will speak about the significance of furniture in Hogarth's painting. Her artistic practice centres on people, place, and object-based commodification to explore themes of race and gender.

Week 3: The Grand Tour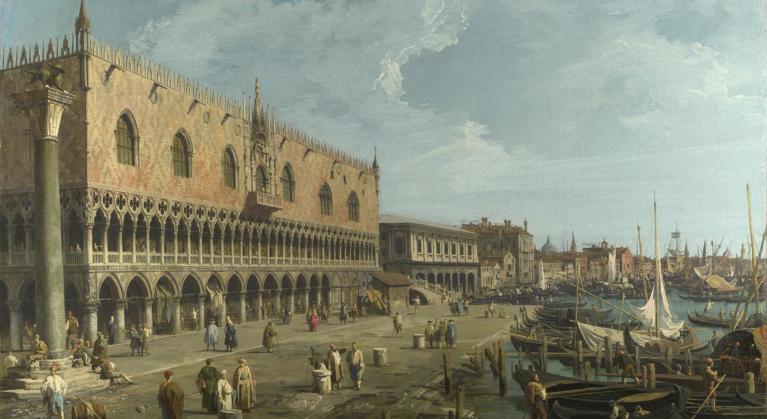 In the 18th and early 19th centuries, before the invention of photography, the best way to see European art was to travel. Young gentlemen were led round Europe by their tutors to turn them into fully rounded individuals.
Although the Grand Tour was not solely the preserve of British aristocrats, the British were the most avid travellers, collecting art and antiquities that filled the stately homes of England – only later to be bequeathed to collections such as the National Gallery.
Week 4: A new face for portraiture
In this period, the genre of portraiture enjoyed numerous innovations. Gainsborough combined portraiture and landscape in his painting 'Mr and Mrs Andrews', for example.
Conversation pieces were a new type of group portrait, showing people involved in everyday activities. People were often depicted in 'fancy dress' – as other characters – and there was an increased interest in portraits of children – with Gainsborough's 'Blue Boy' being a notable example of both ideas. These innovations were further enlivened by the development of animal portraiture, best exemplified in the work of Stubbs.
Week 5: Taking things seriously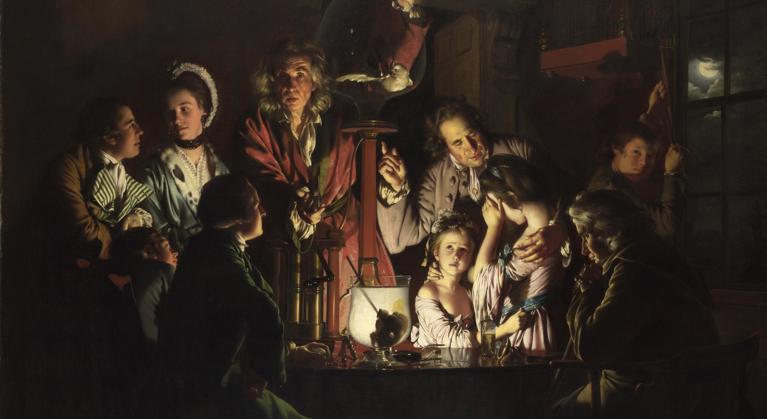 Even while the Rococo was in full swing, there was a profound sense that, however frivolous the art, one should be serious about its production. This was monitored by the academies.
Alongside this, advances in science and philosophy led to a changed understanding of humankind's place within the world, a movement known as the Enlightenment.
After the break, guest speaker Dr Jenny Graham will speak on the cult of sensibility and changing representations of masculinity in 18th-century art with reference to the paintings of Reynolds, Gainsborough, Chardin, Boucher and Greuze.
Week 6: From Revolution to Empire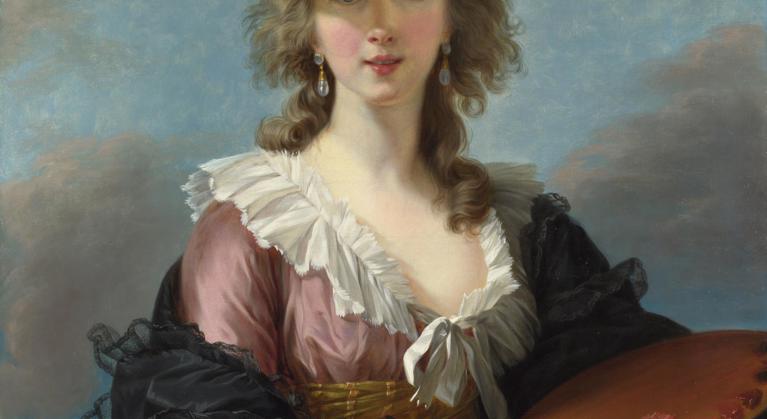 Just as the Renaissance had been primarily based on an understanding of classical Roman culture, a renewed interest in the art of ancient Greece led to the idealised forms and cool tones of the 18th-century Neoclassical style.
This austerity served the sobriety of the French Revolution, as well as the steely determination of the Empire-building Napoleon.
Your tutor
Dr Richard Stemp studied at Clare College, Cambridge, completing a PhD on 15th-century sculpture from Ferrara. He has worked as a lecturer at the National Gallery for over 25 years, and lectures at Tate, the Wallace Collection, the Royal Academy and the V&A in London, and across Europe for Art History Abroad. He has written books on the Italian Renaissance and churches and cathedrals and has written and presented two series for Channel 4 on art at the National Gallery and Tate Modern. He shares his time between art and acting.

Watch again
Can't make Wednesday evenings but don't want to miss out? No problem, you can watch again.
'Stories of art' sessions are recorded and made available to you for one week.
A video of the week's lecture will be uploaded and available for you to watch via your National Gallery account on Friday afternoons. Just be sure to watch it by the following Friday lunchtime, as it will be taken down on Friday afternoons.
Recordings are available to participants via YouTube, where they can be watched with subtitles.
Format
Each session lasts for 2 hours and includes a lecture, followed by a short break and further discussion.
Time will be allowed for questions and discussion via Q&A.
Handouts will be available via your National Gallery account on Tuesday mornings.
Optional homework is provided to help you prepare for the following week's session.
Booking information
This is an online ticketed course hosted on Zoom. Please book a ticket to access the three-week course. Only one ticket can be booked per account.
You will be emailed an E-ticket with instructions on how to access the course via your National Gallery account. All course information including your Zoom link, weekly handouts, and recordings will be available here.
Your link will be valid for the duration of the module.
Booking after the course has started
You are welcome to join the module at any point during its six-week run. However, please note that you will only be able to see the recording from the previous session, as these are taken offline after one week.

A closer look (Gallery tours)
Would you like to look closely at relevant paintings and themes from your lecture course, and discuss them in a friendly, informal group, onsite at the National Gallery?

This weekly small group session, led by Gallery Educators, provides an opportunity to complement and consolidate your learning from the previous 'Stories of art' session, through a Gallery tour, group discussion and close looking.
Places are limited to 20 people.
'A closer look' takes place on Tuesday afternoons from 4-5pm, from Tuesday 26 April, departing from the Sainsbury Wing Foyer.
To book your place for 'A closer look', add this option to your basket when you purchase 'Stories of art' or use this booking link.
What have people said about 'A Closer Look'?
"I found the 'Closer look' sessions invaluable for consolidating and extending the lecture material. All the 'Closer look' leaders have been knowledgeable, thought-provoking and skilled in leading the discussions so that we are all able to participate. The group participants have been collegial and provided stimulating perspectives."

What are people saying about 'Stories of art'?
"I love Richard! I love his style, his enthusiasm and passion and the way he presents – so relaxed and unhurried, and at the same time, so informative. He has taught me to REALLY look at a painting, and that, perhaps, is the most valuable thing I shall take away from this series. He truly is an Art Historian extraordinaire."
"Richard Stemp is fantastic. He combines an amazing depth and breadth of knowledge, with enormous enthusiasm and humour."

"I am profoundly deaf and a lip-reader, so I'm usually hopeless with Zoom. However, Richard's clear and measured delivery meant that I could follow much of his 'live' lecture. It also made the subtitling on the recorded video very easy to follow."
"How interesting to understand how events in history determined the way in which artists and painting developed to reflect changes in fashion, ideas, politics and religion etc."

"I enjoyed and learned from every tutor. I took copious notes, did the optional homework, bought books, watched videos, and went to websites. I was busy, I was enthralled, I learned, I shared with my family. Now I am excited to return to see the paintings in a new light, with a deeper knowledge of the techniques, the artists, the history of acquisition, the politics of the times when they were created, and even the framing."

Dates of upcoming modules
Module 1800–1900 will run from 8 June – 13 July and is led by Amy Mechowski

Module 1900–2022 will run from 20 July – 24 August and is led by Lucrezia Walker
Module 1250–1400 will run in September 2022
Courses
1700-1800
From the Rococo to the Enlightenment, discover the art of Watteau, Hogarth and Vigée Le Brun with Dr Richard Stemp
Online tickets
Standard: £75
Concessions: £70.50
This is an online course, hosted on Zoom.
Please book a ticket to access the event. You will receive an E-ticket with instructions on how to access your online events, films and resources via your National Gallery account.
Please note, only one ticket can be booked per account. Bookings close one hour before the event.
Concessions are for full-time students, jobseekers, and disabled adults.