Europe and the Islamic world
Explore connections between Europe and the Islamic world through a close look at National Gallery paintings
About
What can paintings, such as Crivelli's 'Annunciation with Saint Emidius' and Holbein's 'The Ambassadors', tell us about the presence and reception of Islamic art and people in Europe?
From highly prized Persian carpets and luxury textiles to attempts at Arabic script, depictions of Islamic artefacts abound in European art in the National Gallery's collection and beyond.
On this four-week course, we will look at European imagery of Islamic objects alongside actual examples of these precious items and consider their impact on European decorative arts. We'll also examine the development of visual representations of people from the Islamic world and reflect on the move from generic stereotyping towards greater accuracy.
Week 1: Carpets, trade, and taste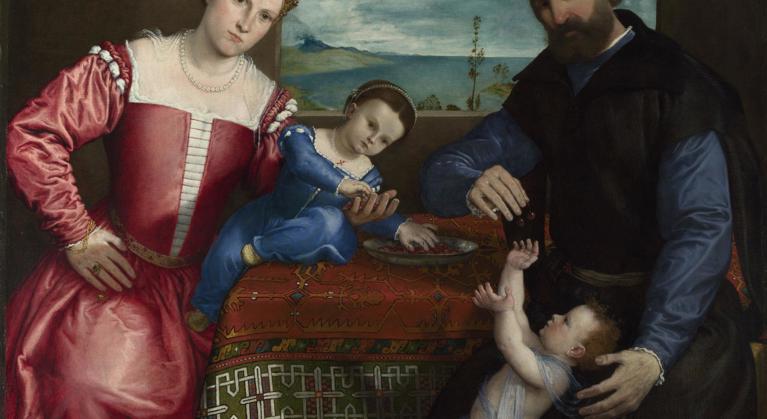 One of the most noticeable signs of trade with the Islamic world are the colourful carpets that feature in many European paintings. We will begin our exploration with an Anatolian carpet in a painting from 1380 and end with a Persian carpet in Willem Kalf's mid-17th century still life. We will trace the variety of designs known in Europe and find out what the paintings reveal about trade, use and taste.

Week 2: Islamic luxury goods
Luxury goods from the Islamic world were highly sought-after in Europe for their design and craftsmanship and, sometimes, for their association with the region where Christianity was born.
We will see Italian Renaissance paintings with attempts at Arabic script in the haloes and edging of the robes of the Virgin. These take inspiration from imported silks and metalwork, and the preciousness of these luxury goods made them ideal for inclusion in Christian religious contexts.
In this session, we will also look at examples of priests' vestments made from silks from the East, Islamic metalwork vessels used in Mass and carpets placed under the altar.
Week 3: Bellini's 'Portrait of Mehmed II'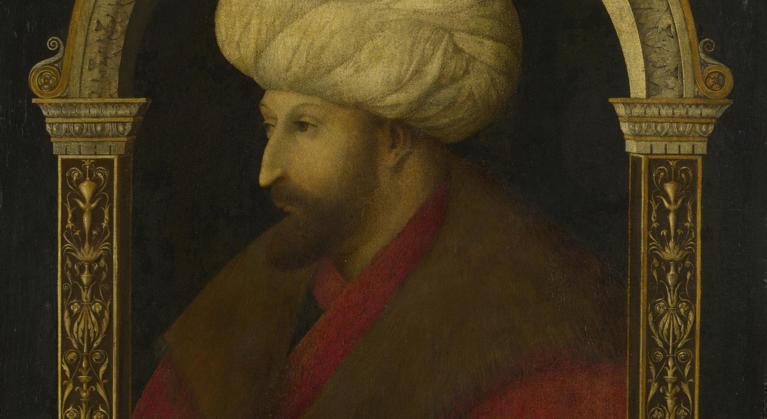 In this lecture, we come face-to-face with the Ottoman Sultan Mehmed II, conqueror of Constantinople. Gentile Bellini was sent to the Sultan by the Venetian Senate, in 1479, in response to his request for a painter. Bellini was the foremost painter in Venice at that time and the decision to send him to Istanbul is an indication of the importance attached to the mission. We will explore Mehmed II's motivations for this request and the role that Bellini played in the Sultan's wider artistic patronage.

Week 4: Representations of the East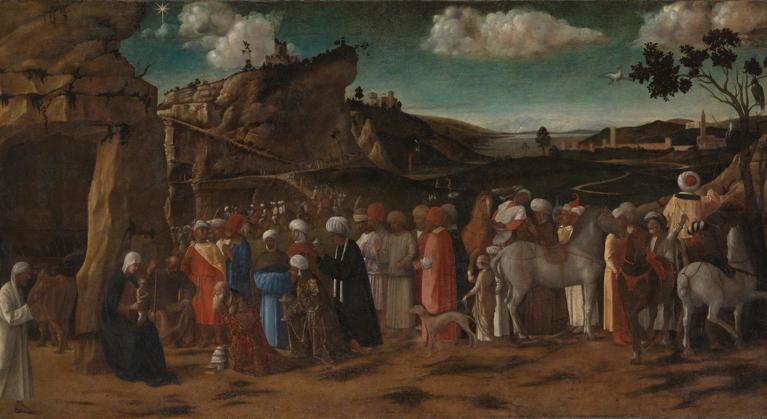 Venetian paintings abound with turbaned men reflecting the city's close experience of the Islamic world through trade and diplomacy.
This week we trace the shift from imagery of generic Easterners to more accurate representations of regional dress. We will also look at paintings from other parts of Italy and gain an insight into diplomatic relations at the time.

Your tutor
Dr Antonia Gatward Cevizli is an independent art historian and lecturer. She holds a PhD from the University of Warwick on cultural exchange between the Italian city-states and the Ottomans in the 15th century and has published widely on the subject. She has lived in Siena, Venice, and Istanbul. She taught for many years at Sotheby's Institute of Art and regularly lectures for the V&A and the Courtauld's summer school.

Watch again
Can't make Thursday mornings but don't want to miss out? No problem, you can watch again.
The sessions are recorded and made available to you for one week.
A video of the week's lecture will be uploaded and available for you to watch via your National Gallery account by Monday. Just be sure to watch it by the following Monday lunchtime, as it will be taken down that afternoon.
The recording will be hosted on YouTube, where you will be able to watch with automatic subtltles.
Format
Each session lasts for 2 hours and includes a lecture delivered by course lecturer Antonia Gatward Cevizli, followed by a short break and further discussion. Several of the sessions feature an in-depth contribution from a guest speaker or Gallery expert.
Time will be allowed for questions and discussion via Q&A.
Handouts will be available via your National Gallery account on Wednesday mornings.
Optional homework is provided to help you prepare for the following week's sessions.
Booking information
This is an online ticketed course hosted on Zoom. Please book a ticket to access the three-week course. Only one ticket can be booked per account.
You will be emailed an E-ticket with instructions on how to access the course via your National Gallery account. All course information including your Zoom link, weekly handouts and recordings will be available here.
Your link will be valid for the duration of the module.
Booking after the course has started
You are welcome to join the course at any point during its three-week run. However, please note that you will only be able to see the recording from the previous session, as these are taken offline after one week.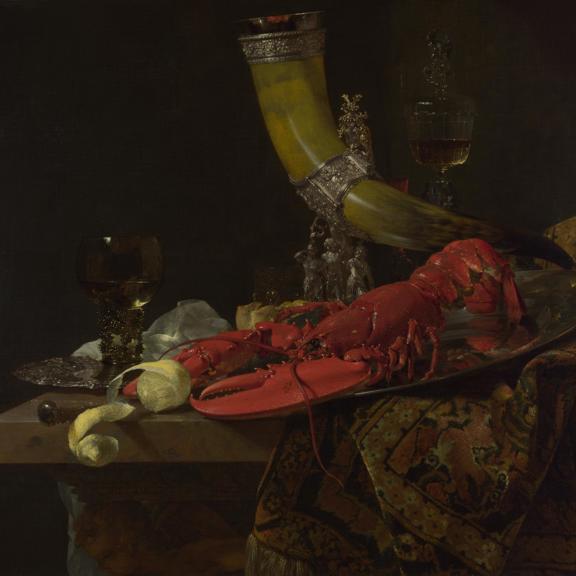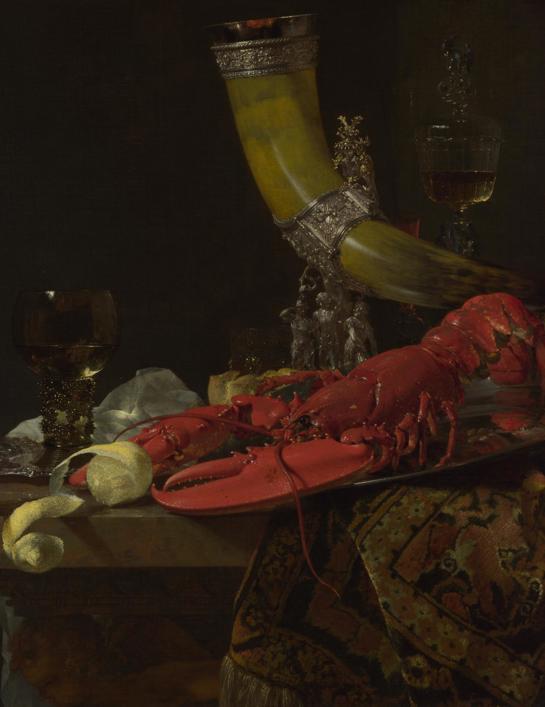 Courses
Cross-cultural encounters
Europe and the Islamic world
Explore connections between Europe and the Islamic world through a close look at National Gallery paintings
Tickets
Standard: £52
Concessions: £48
This is an online course, hosted on Zoom. Please book a ticket to access the event. Only one ticket can be booked per account.
You will be emailed an E-ticket with instructions on how to access your online events, films and resources via your National Gallery account.
Bookings close one hour before the event begins.
Concessions are for full-time students, jobseekers, and disabled adults.