Rembrandt's technique
Rembrandt's later career was characterised by bold technical experimentation, with exquisite results. The attention he had given to costume embellishments in 'Self Portrait at the Age of 34' is in the 1669 self portrait directed instead to the extraordinarily sensitive rendering of the face and the ravages of time to which its surfaces bear witness.

X-radiographs of the painting show that Rembrandt made a number of changes to the composition before settling on the final version. Underlayers reveal that he originally considered depicting himself much more determinedly in the act of painting. In the earlier design he held a paintbrush and wore a white painter's cap of the kind he would have worn while at work in his studio. Rembrandt chose to paint over these details with gently clasped hands and a more formal red beret, focusing attention more intensely on the face.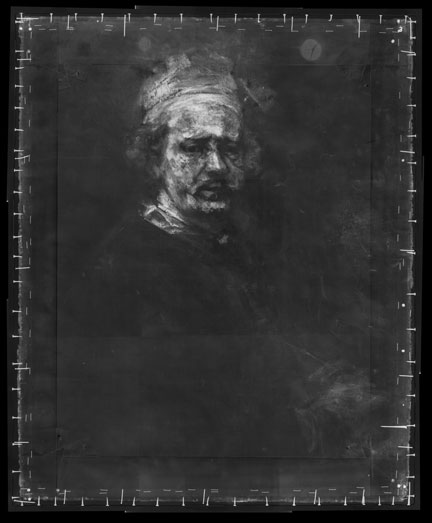 The paint in this area of the picture is applied much more thickly than elsewhere, evoking the texture of aged flesh. The surface of the paint on the canvas catches the ambient light of the viewer's world, which is echoed by the halo-like painted light effect that surrounds Rembrandt's head in the picture. One of Rembrandt's early biographers commented that in one of his portraits the artist had applied the paint so thickly in the face that the painting could be picked up by the nose.