Issued September 2014
For the first time in its 190 year history, the National Gallery is introducing Membership.
Due to huge popular demand, from this week (w/c 22 September 2014) people can become part of the National Gallery story, from as little as £50 per year.

Members will benefit from free, unlimited entry to all exhibitions; invitations to a programme of after-hours events and access to an exclusive online magazine featuring unique, behind-the-scenes features. Members will also be able to enjoy a range of special offers and will be kept up to date through the Membership e-newsletter.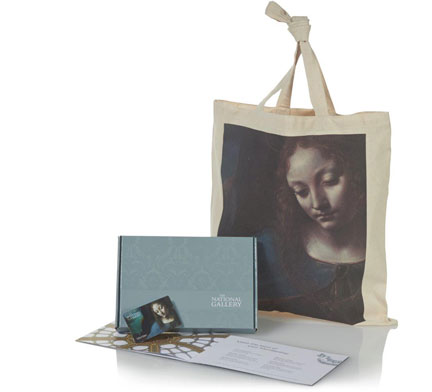 National Gallery Director Dr Nicholas Penny said:
"As Director since 2008 I have been proud to achieve major acquisitions which have transformed the collection and overseen a number of exhibitions that have caught the imagination of the public. It gives me great pleasure that before I retire in 2015 I am now able to launch the very first National Gallery Membership scheme."
On joining, Members will have unlimited access to exhibitions, plus other events at the Gallery. Through the Members' website, there will be unique opportunities to get to know more about the collection, follow the behind the scenes work of the Gallery and hear about future plans. New Memberships are welcomed with a pack that includes a limited edition tote bag, welcome brochure and personalised Membership card.

Nicholas Penny adds:
"By becoming a Member you will be helping us preserve for posterity some of the greatest of all European paintings, plus you will ensure that our educational and outreach programmes can continue to inspire children and adults alike for generations to come. Membership also allows us to understand what our visitors want and to provide an exceptional visitor experience for every single person who walks through our doors."
Membership can be purchased online at www.nationalgallery.org.uk/membership-info, in the National Gallery (from any of the shops or from a member of the Visitor Engagement team), by telephone (call 020 7747 2850) or by post. Contact membership@ng-london.org.uk for further information.
NOTES TO EDITORS
What does Membership cost?
Direct Debit:

Year 1 only

Credit/Debit card


Member: one named card

£50
£60

Member & Guest: one named card plus guest pass

£78
£88

Joint Member: two named cards

£75
£85

Joint Member & Guests: two named cards and two guest passes

£115
£125
All types of memberships can be purchased as gifts.
THE NATIONAL GALLERY
The National Gallery houses one of the greatest collections of European paintings in the world. The Collection consists of over 2,300 paintings from the Middle Ages to the early 20th century.  All major traditions of Western European painting are represented, with artists including Titian, Monet, Velázquez, Rembrandt and Van Gogh. The Gallery is a world centre of excellence for the scientific study, art historical research and care of European paintings from the 13th to the early 20th century.
CONTACT
For further information please contact the National Gallery Press Office on 020 7747 2865 or press@ng-london.org.uk
Publicity images can be obtained from http://press.ng-london.org.uk