About the company
National Gallery Company Ltd (NGC) is a commercial organisation which contributes financially to the National Gallery.
It is owned and operated by the National Gallery Trust (NGT), a charitable body which generates and manages additional charitable contributions to the National Gallery (NG).
In addition to the on-line shop and the shops located in the Gallery, NGC manages the Gallery's café and restaurant, publishes books about the Gallery's collections, and licenses reproductions of the Gallery's paintings through the Picture Library.
It is also possible to hire the interior and exterior spaces for commercial film projects by contacting the National Gallery Location Filming Company.
Please see here for all queries regarding venue hire at the National Gallery.
Publications
The National Gallery Company publishes a range of books to support the scholarship and activities of the Gallery. These include National Gallery Guidebooks and Exhibition Catalogues, collection Catalogues, gift books, children's books, art history books, CD-Roms and DVDs which are all available from the National Gallery shops, the online shop, or by mail order.
Previous editions of the Gallery's Technical Bulletin are available to buy online or in the Sainsbury Wing Shop.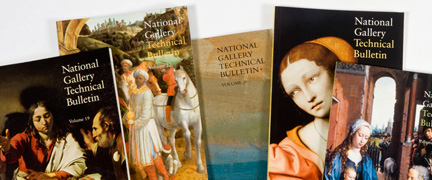 Shops
There are three shops in the Gallery. Each of these has a wider range of products than it is possible to offer on the website.
The Sainsbury Wing Shop is one of the premier specialist art bookshops in London, offering the full range of National Gallery publications and several thousand books from other publishers. It also sells a wide selection of postcards, posters, and gifts.
The Portico Shop stocks a selection of gifts and postcards, books and other merchandise.
The East Wing Shop stocks a range of guidebooks, gifts and postcards, books, and other merchandise.
Shops are open daily 10am - 5.45pm, Friday until 8.45pm.
Mail Order
Visit the online shop 
telephone (+44) 020 7747 2870
or e-mail: mailorder@nationalgallery.co.uk.
Items can be sent to any part of the world to which they can safely be posted.
Restaurants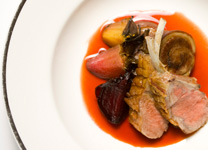 The National Dining Rooms 
A la carte British menu plus set lunch or afternoon tea in the restaurant. Dinner served on Fridays only.
Bakery serving light meals, snacks and drinks. 
Opening times: 10am to 5pm, and Friday until 9pm.
Telephone booking: 020 7747 2525.
The National Café
Brasserie.
Opening times: Monday to Friday 8am-11pm, Saturday 10am-1pm,  Sunday 10am-6pm.
A la Carte Menu serving breakfast, lunch, afternoon tea and dinner
Self-Service 
Opening Times: 10am-6pm daily, late night Fridays till 9pm
Self-service/take-away serving freshly made sandwiches, salads, savouries and cakes.
Telephone booking dinner only: 020 7747 5942
Espresso Bar
The Espresso bar offers a self-service selection of light cakes, pastries and baguettes, hot and cold drinks. It also features touch-screen interactive ArtStart terminals to explore the entire National Gallery collection over a coffee.
Opening times: Daily 10am-5.30pm
Friday 10am-8.45pm.
Find out more about Restaurants at the Gallery
Contact details
National Gallery Company
St Vincent House
30 Orange Street
London
WC2H 7HH
Tel: (020) 7747 2870
Email: on-lineshop@nationalgallery.co.uk
Job vacancies
Vacancies are advertised from time to time. For further details, please visit the Jobs section.