Tweet Titian! — The Winners
Judges' feedback
Winner
Jacqueline Saphra was selected as the winner. It's the sheer sensuous pleasure in language - and how appropriate that is in this case - that won us round. Here we are observers looking at the painting and entering the world of flesh it offers. The poem is gorgeous to say, which is a good enough reason for it to win.
Runners-up
Steffen Hope's poem employs end-rhyme and a nicely flexible pentameter. Selvage is nice, not easy to accommodate. The use of semi-colon caesura in the second part of the poem offer suspense so we tumble into the last phrase. The poem is directly related to the subject of the paintings but gracefully extends it.

Martin Haden also writes a couplet, the second 'line' of which is longer than the first. The first falls pat and fair enough, but the extra length of the second gives an impression of spaciousness that is quite something in a form as short as this. It is spoken by the dogs. There is something about a speaking dog that melts the stoniest heart.

Christina Farley rhymes (all four poems do). In this case it is the first line that is long, with a break, as if by way of aside, on 'in Ovid', then she breaks again in the second half of the poem that might well be regarded as a tercet of three lines. The poem gets so much in, this time from the perspective of Actaeon.


It is only worth saying that poetry at such length absolutely did not have to rhyme or run in meter. Haiku don't, distichs don't. Small prose poems are also possible. There is much more to the twittering form than seems possible at first, so do go on and explore it.
The author of the winning poem will receive: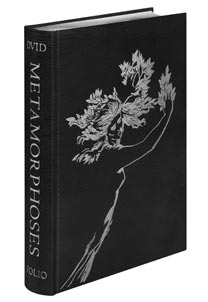 The runners-up will receive a copy of 'Metamorphosis: Poems Inspired by Titian'.