About the competition
As part of the National Gallery's first major exhibition of photography, Seduced by Art: Photography Past and Present, three 'interventions' of contemporary photographs by Richard Billingham, Craigie Horsfield and Richard Learoyd are displayed within the Gallery's collection alongside great 19th-century paintings by Constable, Degas and Ingres.
To celebrate the exhibition and interventions, the National Gallery ran a Flickr photography competition, which asked entrants to explore the connections between Old Master paintings and photography.

The challenge was to enter a modern take on a traditional landscape, inspired by Constable's The Cornfield and the photographic interventions in the Gallery. It was judged by photographer Dave Lewis, whose work was exhibited in Seduced by Art.
The winning image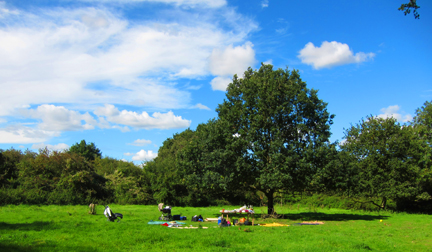 Judge's feedback
There have been some truly wonderful images submitted to the National Gallery's Flickr photography challenge.

The winning image kept on coming back into my mind. The hyper-real colour, lack of human presence and unforced composition works brilliantly as a contemporary photographic work of art.

The white clouds against the blue sky complete and enhance the view behind the darker shade of the green foliage (compared to the glaring bright green of the grass), and seem to lead our eye to the objects in the middle of the photograph.

At the same time the image works as a subtle 'conceit' of purpose. By this I mean the photograph appears as if it could have been a quick snapshot while the owners of the objects we can see went for a walk – or have mysteriously vanished.

It is the absence of human figures in this photograph full of human 'things' that appeals to my curiosity and forces a series of questions. The baby strollers, the ground mats, the table with bottles and the yellow football do more than just inhabit the frame. In the context of this photographic competition, they speak to us – the audience – about the use of land in the contemporary landscape.

This photograph is a worthy winner of the 'Capturing the Landscape' competition because it speaks to the composition of the landscape image and at the same time contemporary photographic practice.

For those of you who did not make the runners-up list please keep taking pictures and looking at different genres of photography as well as art (both traditional and contemporary) in all its forms. And, of course, keep entering photographic competitions! Remember it's about the ideas you bring to your photographs. Read Dave's top photography tips

Dave Lewis, Photographer
Runners-up
Muddy Winter Fields [External link] by Harbs and his snaps
Hyde Park [External link] by Simone Fisher
An Urban Landscape [External link] by Amy Freeborn TFT