Cinema screenings of EXHIBITION
Cinema screenings of EXHIBITION
EXHIBITION: Vermeer and Music: The Art of Love and Leisure
Date and time
From October 10 2013 at cinemas worldwide
An unprecedented opportunity to experience Vermeer's finest masterpieces captured using high-tech digital cinema technology.
Award-winning arts documentary maker Phil Grabsky will launch the latest in his EXHIBITION series of films on October 10 2013, with  EXHIBITION: 'Vermeer and Music: The Art of Love and Leisure' [External link] which features exclusive footage from the exhibition of the same name at the National Gallery.
Watch the trailer
http://www.nationalgallery.org.uk/content/conMediaFile/21613
442
450
/
http://www.nationalgallery.org.uk/
no
yes
yes
yes
no
no
yes
no
yes
yes
If this text remains on screen after the page has loaded, please install Adobe Flash and enable Javascript.
The film will be screened at more than 70 cinemas across the UK and over 1000 venues in 30 other countries around the world. The two largest cinema groups participating in the UK are VUE and Picturehouse/City Screen. All information on participating cinemas worldwide can be found at the official website, www.exhibitiononscreen.com [External link].
About the film
Music was one of the most popular themes of Dutch painting during the Golden Age and the exhibition explores what this can tell us about the sitter and the society they lived in, alongside new research about how Vermeer's technique and materials affected his works.
As well as including footage from the exhibition itself, art historian and broadcaster Tim Marlow travels across the world looking at other Vermeer works and the wider story of the artist's life – and in doing so shows many of his captivating works in high-definition detail. The film also features interviews with special guests and experts including 'Girl With a Pearl Earring' author Tracy Chevalier.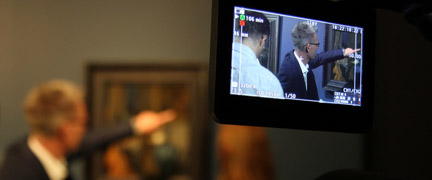 Learn more about the exhibition
'Vermeer and Music: The Art of Love and Leisure' explores the musical pastimes of the 17th-century Netherlands through the art of Vermeer and his contemporaries – displayed alongside rare musical instruments and songbooks, with musical accompaniment from the Academy of Ancient Music.

'Vermeer and Music: The Art of Love and Leisure' runs until September 8 2013.
About the project
The ground-breaking EXHIBITION project aims to connect major exhibitions from across the world with a global audience, allowing art lovers to enjoy the works of some of history's greatest ever painters. EXHIBITION is produced by Phil Grabsky's PhilGrabskyfilms.com in association with Seventh Art Productions and BY Experience. In November 2011 PhilGrabskyfilms.com screened the live opening of the 'Leonardo Live' exhibition from the National Gallery at cinemas around the world, the first ever art exhibition to receive a simultaneous global transmission.