Private group tours
Private group tours
Discover the most famous, beautiful and challenging paintings in the world at the National Gallery. Led by Gallery experts, private tours last one hour and explore four or five key paintings from the collection. See inspiring art by artists such as Leonardo da Vinci, Michelangelo, Titian, Holbein, Velázquez, Rembrandt, Turner, Monet and Van Gogh.
Choose from the following themes or contact us to discuss a bespoke theme:
How to book
Private tours can be booked by groups of up to 25 adults, at least one month in advance. Tours take place during normal gallery opening (Monday to Saturday only).
Private tours cost £230 per group, payable in advance.
A reduced fee is offered to UK educational organisations including U3A, NADFAS and WEA. University and FE Colleges in the UK can use our service free of charge.
To book a private tour, phone 020 7747 5915 or email adultgroups@ng-london.org.uk.
Book a tailor-made tour
Phone 020 7747 5915 or email adultgroups@ng-london.org.uk.
Group bookings for charging exhibitions
To book tickets for your group to attend one of our charging exhibitions please call 020 7907 7059.
School, college and university groups wishing to purchase exhibition tickets should email tickets@ng-london.org.uk or call 020 7747 2888.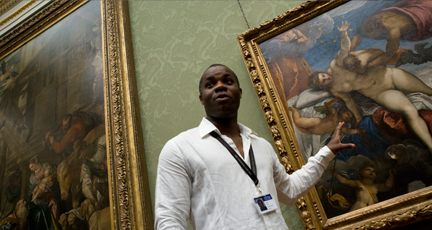 Tour themes
Highlights of the National Gallery: You can find hundreds of the most famous, beautiful and challenging paintings in the world at the National Gallery. Our Highlight tours explore four or five of the most famous paintings from the collection – discover breathtaking masterpieces such as Leonardo's 'Virgin of the Rocks', Titian's 'Bacchus and Ariadne', Turner's 'Fighting Temeraire' and Van Gogh's 'Sunflowers'.
Best of British: Hogarth to Reynolds: The National Gallery's collection of British paintings represents some of the most famous and best-loved art in the country. From Hogarth's 'Marriage A-la-Mode' series, to Reynolds's enigmatic portraits and Constable's idyllic landscapes, this tour will explore British painting at its best in the long 18th century.
Broadening Horizons: Landscapes from Canaletto to Monet: Our physical environment has inspired and challenged artists for centuries. This tour will explore artists' different approaches to painting the natural and urban landscape – from Canaletto's detailed Venetian cityscapes to Monet's impressionistic views of the countryside.
Inspiring Minds: Dramatic Storytelling from Titian to Turner: Tales of love, betrayal and adventure adorn the walls of the National Gallery. Presented in colourful and dramatic ways by some the greatest visual storytellers of Western European art, these paintings illustrate how ancient myths continue to inspire imaginative and inventive responses.
Face to Face: Portraits from Holbein to Rembrandt: Explore some of the world's most enigmatic portraits at the National Gallery. What is the function of a portrait and how might this have changed through time? What can we learn from the way artists have depicted themselves, and their patrons?
Trade Secrets: Encoded Messages and Unusual Discoveries: Paintings often reveal surprising messages that may not be immediately obvious. Symbols, attributes and their associations can embody coded meanings and, through deciphering these, we can enhance our understanding of paintings and the subtle messages that artists have intended.