National Dining Rooms
Opening times: Daily 10am–5.30 pm, Fridays 10am–8.30pm 
Book a table
Alternatively, call 020 7747 2525
With the emphasis firmly on classic dishes and comfort food, this quintessentially British restaurant offers National Gallery visitors the ultimate dining experience.
Take a virtual tour of the National Dining Rooms (choose fullscreen for a better view)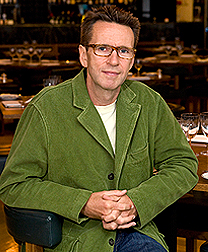 The National Dining Rooms is the brainchild of restaurateur Oliver Peyton, and was designed by internationally renowned architect David Collins.
The menu features a varying selection of regional dishes and includes a nutritious children's menu and all-day bakery.
County Menus 
Experience the best of British produce with the National Dining Room's County Menus.
Every month our head chef Gillan Kingstree explores a different county and celebrates its finest artisan producers with a selection of refined and mouth-watering dishes
See National Dining Rooms menu [External website]