Trusts and foundations
Recent projects
Education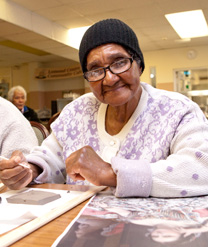 The National Gallery has a large and varied Education Programme through which we aim to bring enjoyment and understanding of Western European painting to a wide range of people.
Grants from trusts and foundations are essential in helping the National Gallery to develop new educational projects and ensure that we are able to maintain successful ongoing work. For example, The John Ellerman Foundation recently made a three-year pledge towards the Gallery's Outreach Programme, which will not only support existing projects with hard to reach participants but will also enable us to develop a new project working with older people, Ageing Creatively.
Curatorial
Much of the National Gallery's work and reputation hinges on the expertise of its curatorial staff. It takes many years of study and a wealth of experience to become a curator. Thanks to the generosity of two trusts, we are able to offer talented art historians the opportunity to gain invaluable skills and experience here at the Gallery.
The National Gallery employs two curatorial assistants who are in post for 22 months. During their tenure, they are able to gain hands-on experience in all aspects of curatorial work, from writing catalogue entries and securing loans for major exhibitions to organising small exhibitions and re-hanging the permanent collection. Many past Curatorial Assistants have gone on to secure posts in major galleries and museums in both the UK and elsewhere, including at the National Gallery.
Building projects
Some of the most costly projects that the National Gallery undertakes are those associated with improving gallery spaces and public facilities. The support of trusts and foundations has been invaluable in ensuring that these building projects are completed to the highest standards possible.
The Gallery's last major capital campaign was the East Wing Project which transformed the highly popular 19th-century galleries and created a new accessible entrance from Trafalgar Square. The Gallery has an ongoing programme of building work. It is currently concentrating on improving the environmental conditions in certain key spaces for the protection of the works displayed there.