Recent projects
Building projects – The Maurice Wohl Charitable Foundation
Thanks to a generous grant award from the Maurice Wohl Charitable Foundation, the National Gallery's 19th-century and Impressionist galleries (Rooms 41 to 46) are to undergo a major renovation.
The Award, which celebrates the 50th anniversary of the philanthropy of the late Maurice and Vivienne Wohl, will fund extensive works to renew and replace the gallery roofs, refurbish the galleries and improve environmental and lighting conditions. These improvements will be vital to ensure that the Gallery's internationally significant collection of works by artists including Monet, Renoir, Seurat, Degas, Cézanne and Van Gogh continues to be displayed in optimum conditions. The renovation work is due to complete in early 2017.
Exhibitions – The Bernard Sunley Charitable Foundation
The Bernard Sunley Charitable Foundation is a generous long-term supporter of the National Gallery's Sunley Room exhibition programme. Support from the Sunley Foundation has enabled the Gallery to show a wide variety of exhibitions exploring different artists and themes. Richard Hamilton: The Late Works and Michael Landy: Saints Alive, both in 2013, presented new art work created in response to the Gallery's collection. Building the Picture: Architecture in Italian Renaissance Painting encouraged visitors to consider how artists have represented architecture and reimagined physical spaces. 
The National Gallery is grateful to the Sunley Foundation for their enduring support.
Curatorial – The Art Fund
Thanks to the generosity of the Art Fund, we are able to offer talented art historians the opportunity to gain invaluable skills and experience working with curators here at the Gallery and to contribute to projects in regional museums and galleries.
As part of its National Programme, the Gallery employs two Curatorial Trainees who are in post for 22 months. During their tenure, they gain hands-on experience in all aspects of curatorial work at the Gallery, before taking up residency at two different regional museums, where they research and develop collection-based projects with a public outcome.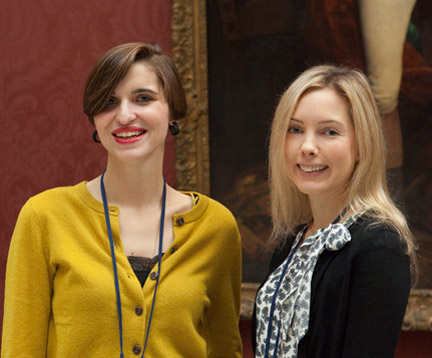 Read more about our Curatorial Traineeships.