Corporate entertaining
Gallery entertainment spaces
Contact the Events Team
Tel: 020 7747 2860
Email development@ng-london.org.uk
The Central Hall
Central Hall showcases a selection of the National Gallery's 16th-century paintings. This spectacular room has an octagonal glass roof, walls covered with a rich Venetian fabric and a ceiling decorated with gold leaf. Situated off the Portico entrance, Central Hall is perfectly situated to accommodate exceptional receptions and dinners.

Central Hall can be used with the Barry Rooms to increase the reception capacity to 400.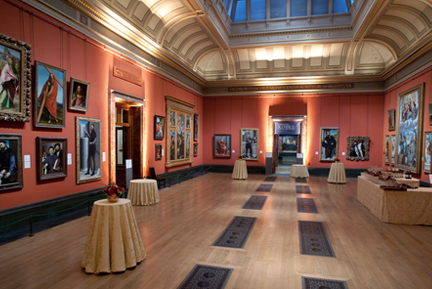 The Barry Rooms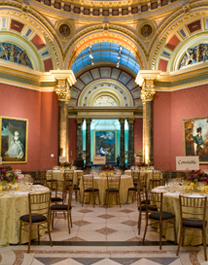 The Barry Rooms are an impressive setting with a spectacular domed roof, ornamental marble pillars and British portraits adorning the walls. This space is perfect for both intimate and larger scale dinners and receptions.

The Barry Rooms can be used with Central Hall to increase the reception capacity to 400.
The Yves Saint Laurent Room
The Yves Saint Laurent Room is an elegant gallery housing a selection of French 17th-century paintings. The opulent colouring of fabric on the walls contributes to the atmospheric setting for a stylish dinner party or canapé reception.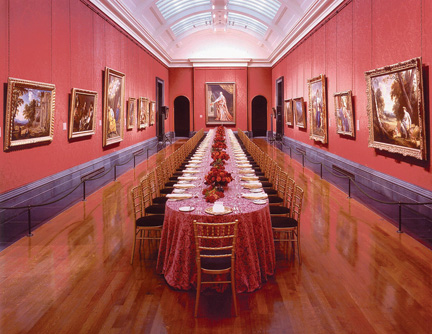 The Wohl Room
The Wohl Room contains the Gallery's fantastic collection of Venetian paintings. This gallery has a magnificent glass roof and is lavishly decorated with green damask walls.  It is an ideal setting for larger receptions and dinners.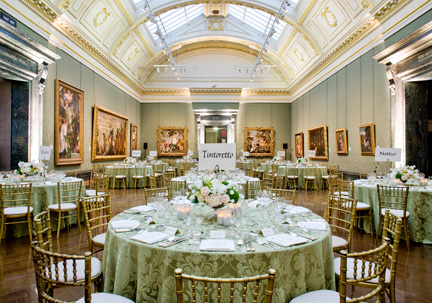 The Sainsbury Wing/Temporary Exhibition Space
The Sainsbury Wing contains the temporary exhibition gallery which has an exciting exhibition schedule. The contemporary entertaining space outside the exhibition gallery is conveniently situated, providing the perfect location for receptions to accompany private views of special exhibitions.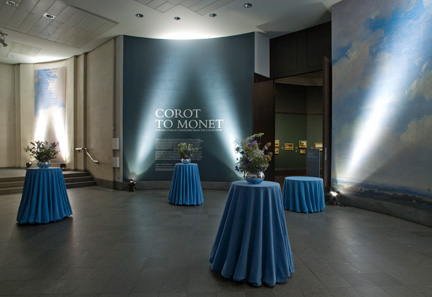 The Lecture Theatre and Conference Rooms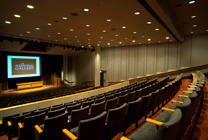 The Lecture Theatre is a state-of-the-art conference facility situated in the Sainsbury Wing, which is perfect for daytime conferences, leading in to an evening event.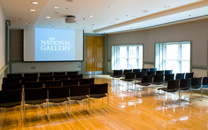 There are also two conference rooms, which are ideal for daytime or evening conferences. These rooms are equipped with audio visual facilities.