Titian's 'Diana and Actaeon'
Detail from Titian,
Diana and Actaeon
, 1556–9 © The National Gallery London / The National Galleries of Scotland
In depth research into Titian's 'Diana and Actaeon'
Titian (active about 1506; died 1576)
Diana and Actaeon, 1556–9
Oil on canvas, 184.5 x 202.2 cm

Bought jointly by the National Gallery and National Galleries of Scotland with contributions from the National Lottery through the Heritage Lottery Fund, the Art Fund (with a contribution from the Wolfson Foundation), The Monument Trust, J Paul Getty Jnr Charitable Trust, Mr and Mrs James Kirkman, Sarah and David Kowitz, Chris Rokos, The Rothschild Foundation, Sir Siegmund Warburg's Voluntary Settlement, and through private appeal and bequests, 2012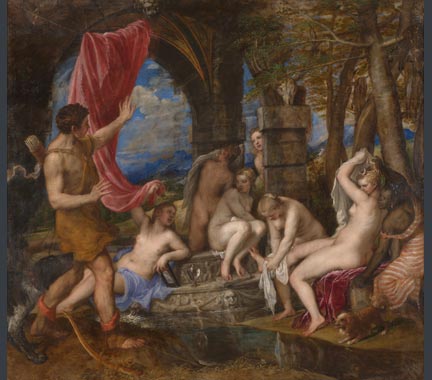 The commission
Diana and Actaeon is one of six large mythologies that Titian produced for King Philip II of Spain between 1549–62. The project seems to have been conceived when Titian met Philip, first at Milan in 1548, and then at the Imperial Diet at Augsburg in the winter of 1550–1, on both of which occasions he also painted the prince's portrait.
Titian was allowed exceptional freedom in choosing the subjects, which are drawn from Ovid's 'Metamorphoses'. The commission stimulated him to create the most ambitious and magnificent works of his entire career. Titian coined the term 'poesie' for his elegiac compositions, because he regarded them as the visual equivalents of poetry.
The first two mythologies, 'Danae' (1549–50) and 'Venus and Adonis' (about 1552–4), were variations of pictures Titian had painted before. In 1556, the year Philip was crowned king of Spain, Titian sent him 'Perseus and Andromeda', to be joined later by the 'Rape of Europa' (1559–62).
Three years after the 'Perseus', Titian sent Philip 'Diana and Actaeon' and 'Diana and Callisto'. Designed as pendants (a stream flows from one to the other), the two paintings have remained together throughout their history. Another late poesia destined for Philip but never sent is The Death of Actaeon, now in the National Gallery. In this work, Titian movingly depicted Actaeon, transformed into a stag by Diana, being torn to death by his own hounds.