The Roman Campagna, with the Claudian Aqueduct
Subject
In 1825 Corot arrived in Italy for his first and what was to be his longest trip, returning to France in 1828.13   He was accompanied by a fellow student from Bertin's atelier, Johan Karl Baehr (1801–1869), who later became a Professor of the Academy at Dresden.14   They arrived in Rome in November 1825, and in May 1826 made their first trip into the countryside, visiting Civita Castellana to the north of the city.
Corot spent most of the time from May to October in the countryside north of Rome, and then in November made a trip south to the Castelli Romani. He remained in Rome during the winter, working on pictures for the Salon. In April 1827 he travelled to Olevano, south-east of Tivoli, and from May to July he was in the Castelli Romani. In late July and August he was in Subiaco and Olevano, and in September and October he was back north of the city. Again he spent the winter in Rome, and in February 1828 visited Naples.
The Claudian Aqueduct was one of two aqueducts begun by Gaius Caesar in AD 38, and completed by Claudius in AD 52. The one which bears Claudius's name was supplied with water from the Caerulean and Curtian springs, which also fed the Acqua Marcia. In Corot's time the remains of the aqueduct were visible just five kilometres out of Rome on the Via Appia Nuova.
The exact spot where Corot stood to paint this view has been identified: three kilometres from the Porta San Sebastiano, near to the Via Appia Pignatelli and a few metres from the church of Sant'Urbano.15  The Tor Fiscale, visible right at the centre, was a medieval defence tower, its 17th-century name derived from an official of the Papal Treasury. It was erected at the intersection of the crossing of the Acqua Claudia over the Acqua Marcia.16 
Behind the Claudian Aqueduct and to the right and the left of the tower is the Acqua Felice, an aqueduct constructed by Pope Sixtus V in 1585 on the ruins of the Acqua Marcia. On the right are the Alban hills, on the left the Monti Prenestini. In the middle-ground, behind the trees, flows the River Almone, which crosses on the right a path, now the Via dell'Almo, which rejoins the Via Appia Nuova.

Corot depicted the Claudian Aqueduct in a number of views, including 'Aqueduct in the Roman Campagna '(R74) (Philadelphia Museum of Art; fig. 3), in which the Via Appia Nuova can be seen17 and 'Aqueducts in the Roman Campagna', dated December 1825 (R96, location unknown)18.  Another work, 'A View of the Roman Campagna and the Claudian Aqueduct towards Monte Caro', signed and dated Corot\Rome 1826, is painted on canvas, which together with its larger size (29.2 x 51.4 cm), suggests that it was painted in the studio.19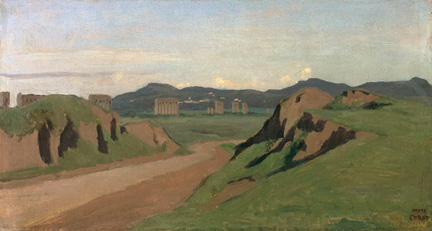 Robaut dates both R74 and NG 3285 to 1826 to1828, suggesting that they could have been painted at any time during Corot's stay. Galassi writes that Corot tended to start with a preparatory drawing directly on the paper, which enabled him to establish the composition before beginning to paint. His analysis of Corot's method at this period describes perfectly the technique of NG 3285: 'As he filled in the outlines with paint, the drawing disappeared. The result was a taut mosaic of interlocking blocks of colour, each treated as a single touch, or patch of touches, of the brush.'20 
In the case of NG 3285, unaware of the underdrawing, Galassi concludes that it was probably painted in the spring of 1826, that is, early on in Corot's Italian stay, on the grounds that the composition shows signs of experimentation. There are certainly awkward passages, such as the right-hand side: 'The hillock and bush on the right have congealed into a dense mass, which stands up vertically to merge with the undulating line of the distant mountain range. Notice also the strange, bulbous shape of the shadow.'21  
Despite the fact that the infra-red has revealed underdrawing, Galassi's theory that the painting dates from early in Corot's stay is probably correct and a dating of spring 1826 seems plausible for NG 3285, taking into consideration its fresh and sunny atmosphere.22  
1. Bibliothèque Nationale de France, Cabinet des Estampes,  Alfred Robaut, Documents sur Corot,  4oY b 3 949 I p. 36. Quoted in A. Roquebert, 'Quelques observations sur la technique de Corot', in Corot, un artiste et son temps. Actes des colloques organisés au Musée du Louvre par le Service Culturel les 1er et 2 mars 1996 à Paris et par l'Académie de France à Rome, Villa Médicis, le 9 mars 1996 à Rome, Paris and Rome 1998, pp. 73–97 (79).
2. For a full discussion of materials and technique see article by S. Herring, 'Six Paintings by Corot in the National Gallery: Methods, Materials and Sources', National Gallery Technical Bulletin, 30, 2009.

3. L.N. Vauquelin, 'Second Memoir on the Metal Contained in the Red Lead of Siberia', Philosophical Magazine, I, 1798, pp. 361–7, and 'Mémoire sur la meilleure méthode pour decomposer le chromate de fer, obtenir l'oxydé de chrome, préparer l'acide chromique, et sur quelques combinaisons de ce dernier', Annales de Chimie, 1st ser. 70, 1809, pp. 70–94.  See R. Newman in E.W. Fitzhugh, ed., Artists' Pigments. A Handbook of Their History and Characteristics, Washington DC and Oxford 1997, pp. 273–93. Newman does not go into the question of the date of its introduction.
4.A.H. Church, The Chemistry of Paints and Painting, London, 3rd edn, 1901, pp. 194–5.  See also R.J. Gettens and G.L. Stout, Painting Materials. A Short Encyclopedia, New York 1942, pp. 173–4.
5. Gettens and Stout 1942, pp. 173–4. In England the colour maker George Field was also making the colour, and his journal entry for 1815 gives a recipe for chromium oxide. Most assume that the green supplied by Field from 1815 was of the opaque variety, but this cannot be certain, as he did not make any chemical distinction between the opaque and transparent green.  In his Chromatography, an account of pigments available at the time, he talks of a true chrome green, 'of various degrees of transparency or opacity'. G. Field, Chromatography. A Treatise on Colours and Pigments, London 1835, p. 129.
6. The reference in Arsenne is noted  in D. Bomford, J. Kirby, J. Leighton and A. Roy, Art in the Making. Impressionism, exh. cat., London 1990–1, p. 219, and A. Burmester and C. Denk, 'Blau, Gelb, Grün und die Landschaftsmalerei von Barbizon', Barbizon. Malerei der Natur – Natur der Malerei, eds A. Burmester, C. Heilmann and M.F. Zimmermann, Munich 1999, pp. 295–329 (298).
7. L.-C. Arsenne,  Manuel du Peintre et du Sculpteur, 2 vols, Paris 1833, II, p. 248.  However,  J.-F.-L. Mérimée, De la peinture à huile, Paris 1830, p. 190, only mentions the opaque variety of the green, not true viridian, which suggests that he was unaware of it.
8. Moreau-Nélaton in Robaut 1905, I,  p. 24. See Burmester and Denk 1999, p. 307.
9. Moreau-Nélaton in Robaut 1905, I, pp. 38ff. See Burmester and Denk 1999, p. 298.
10. Alfred Robaut, Documents sur Corot, Bibliothèque Nationale de France, Cabinet des Estampes,  Yb3 949, II, p. 15. Quoted in Roquebert 1998, p. 90. While acknowledging that on occasion Corot did make use of certain greens, for example vert Veronèse and vert éméraude, Roquebert repeats this in her essay 'La technique de Corot' in Madrid/Ferrara 2005–6, pp. 57–71, French translation, pp. 343–7, Italian edn, pp. 59–71, esp. pp. 66–7. In both essays she cites the findings of  J.- P. Rioux that Corot hardly ever used ready-made greens, backed up by R. Woudhuysen-Keller, J. Cuttle and Ch. Hurst, 'Zwei Gemälde von Camille Corot. Gedanken zur Maltechnik und  zur Restaurierung', Restauro, 1993, no. 3, pp. 306–15.
11. See Burmester and Denk 1999, p. 302.
12. Two later paintings in the collection where viridian has been found are NG 6439, Peasants under the Trees at Dawn,  and NG 6466, The Oak in the Valley, both of which are discussed below. At the same time Corot also created greens using a mixture of Prussian blue and chrome yellow, as in NG 2625, The Leaning Tree Trunk.
13. Corot returned to France via Venice. He was again in Italy in May – October 1834, and May – August 1843. 
14. Baehr made two further trips to Rome, in 1827–8 and 1834–5. There exists from the last trip a painting, Campagna Landscape, which also shows the aqueducts (Dresden, Gemäldegalerie Neue Meister, no. 2698).

15. See Jullien 1987, pp. 112–13, for a discussion of the view.  

16. See T. Ashby, The Aqueducts of Ancient Rome, ed. I. A. Richmond, Oxford 1935, p. 232.
17. In this view he is situated four kilometres from the Porta San Giovanni.
18. In this latter they are viewed from next to the tomb of Cecilia Metella. See P. Galassi, Corot in Italy, 1825–8, PhD thesis, Columbia University, 1986, p. 419, where he links R96 with R101 and R180, stating that two of them are copies of the third, but as he has not been to able to study them at first hand, is not able to say which is the original. 
19. Christie's, London, 2 July 2008, lot 175. It is to be included in the sixth supplement to Robaut, which is in preparation.
 
20. Galassi 1991, p. 157.

21. Galassi 1991, pp. 170–2. 

22.  It does not have, as Jullien suggested, a golden evening light. 
23. The compiler is grateful to Claire Bechu, Centre Historique des Archives Nationales, Paris, for this suggestion. Martin Davies identified Saint-Barbe as the Collège Sainte-Barbe in Paris, but was not able to find mention of Panis in either J. Quicherat, Histoire de Sainte-Barbe, Collège etc, Paris 1860/4, or in the Almanach Royal for that period. He is also not mentioned in E. Nouvel, Le Collège Sainte-Barbe: la vie d'un collège parisien de Charles VII à nos jours, Paris 1948. There is no mention of Panis among the college's archives in the Sorbonne, which in fact date mostly from before the Revolution. The compiler is grateful to Jacqueline Artier, conservateur du service du livre ancien, Bibliothèque de la Sorbonne, for checking this. 
24. R3103, carnet 66, vers 1825.
25. Collection de M. Le Comte Armand Doria. Tome Premier, tableaux modernes. Préface et Catalogue analytique par M.L. Roger-Milès. Précédés d'un essai sur la Vie du Comte Armand Doria par M. Arsène Alexandre, Paris, Imprimerie Georges Petit, 1899. If indeed Corot simply lent the painting to Panis, then it would be plausible to suggest that Count Armand Doria, who was an important collector of Barbizon and Impressionist pictures and who invited artists to stay with him, bought this painting directly from Corot. Degas paid 1,150 francs for this painting. Information from L'Album Souvenir of the collection, which appeared a few months after the sale, conveyed by Comte Arnauld Doria in a letter of 20 April 1956 in the dossier. The National Gallery Library also holds an Album Souvenir, which records the price as 1,820 francs.
26. NG 3285 was one of seven paintings by Corot in Degas's collection, six of which were landscapes, the seventh being a figure study of a woman. Although Degas was not alone in collecting Corots at this period, it was unusual to concentrate, as he did, on the artist's early work. It has been noted that Degas might have been attracted to Corot's Italian scenes because of their reminder of Degas's own time in Italy in the 1850s, from where he wrote: 'A feeling of antiquity survives in the countryside, that is wild, empty, cursed like the desert, with its great mountains carrying aqueducts and its herds of cattle spread far and wide. This is really beautiful, with the kind of beauty that is like a dream of antiquity.' Quoted in A. Dumas, Degas as a Collector, exh. cat., National Gallery, London 1996, p. 36. It is probable that it was one of the `two small Views of Italy by Corot' which hung in Degas's bedroom. See P. Lafond, Degas, Paris 1918, pp. 177–21. Holmes writes that it was 'the vivid little early landscape by Corot, which Degas kept hanging over his bed'.  C.J. Holmes, Self and Partners (Mostly Self), London 1936, p. 338.

For the Degas collection and sales see  London 1996, p. 36; New York 1997–8, Holmes 1936, pp. 336–42; D. Sutton, 'The Degas Sales and England', Burlington Magazine, April 1989, pp. 266–72; Anne Emberton, 'Keynes and the Degas Sale', History Today, January 1996, pp. 22–8. NG 3285 does not seem to have been considered the most important work by Corot in the collection, as The Limay Bridge was singled out by more commentators on the sale. However, Bouyer gives it this praise: 'As for the Ruins of the Claudian Aqueduct, its pink patches in the harsh Roman countryside rendered in unusual greens, it is one of those loyal nature studies that justify Poussin's bluish backgrounds and vast cloudy skies.' See R. Bouyer, 'Mouvement des arts: la Collection Edgar Degas', La Chronique des Arts, March 1918, pp. 85–7, reprinted in Dumas, Tinterow et al., 1997–8, pp. 310–12.