The Leaning Tree Trunk
Souvenir of Mortefontaine
Souvenir of Mortefontaine
These paintings are also closely related in both mood and motif to a further series, of which the most famous is 'Souvenir of Mortefontaine' (R1625, Paris, Musée du Louvre; fig. 6) exhibited by the artist at the Salon of 1864. Robaut dates the related paintings generally to the late 1860s and early 1870s8.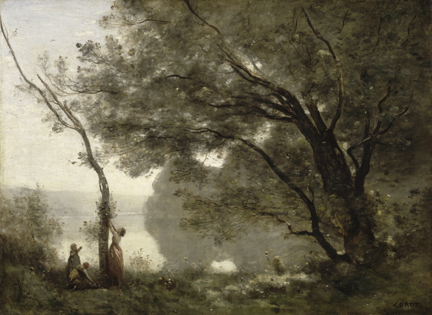 Mortefontaine is a village to the north-east of Paris, known for its park and artificial lakes, created towards the end of the 18th century for Louis Le Peletier (1730–1799) who inherited the estate. In 1798 the estate was bought by Napoleon's brother Joseph Bonaparte who made further additions. The grounds were refurbished in 1862, when the duc de Gramont built a new château in the 'grand parc'. In the 1850s Corot painted some views of the area, although it has been suggested that 'Souvenir of Mortefontaine' itself and its related works can be seen as reminiscences of his views of the Italian lakes9. 
However, there are distinct differences in composition between these two groups of paintings. In the foreground of 'Souvenir of Mortefontaine' the trunk and branches of the right-hand tree reach over to the left of the picture, while on the left a single tree stands alone. Its trunk stands straight, but its upper half echoes the movement of the mass of branches on the right. A woman and children gather around the tree, the woman reaching up to gather twigs or foliage.
The leaning branches of 'Souvenir of Mortefontaine' can also be traced back to a drawing made by Corot during his first visit to Italy in 1826, 'Torrent sous Bois, Civita Castellana' (R2505, Paris, Musée du Louvre), as has been noted by Bazin10. Claude and Japanese prints have also been suggested as possible sources for this motif11. Toussaint specifically places Souvenir de Mortefontaine in a short period where Corot became influenced by Japanese art. Corot took from Japan the idea of the screen in the foreground, in this case the trees, flattening the picture surface, through which one glimpses the distance12. This device is also present in the series to which 'The Leaning Tree Trunk' belongs.
Dating
Bazin defines the group to which NG 2625 belongs as coming after 'Souvenir of Mortefontaine': 'We also see the theme [of 'Souvenir of Mortefontaine'] combined with a tall upright dead tree, born on the banks of the lake at Ville d'Avray (R1497 and 1498) and which, once discovered, served Corot again and again.' 13 
The dead tree refers to the prominent single upright trunk found on the right of these compositions, but in fact, as we have seen, this trunk is an exact copy of the upright tree on the right of the drawing cited above, 'Clump of Trees at Civita Castellana'14.  
Other authors give dates that suggest that the series in which 'The Leaning Tree Trunk' plays a part came first. Marie-José Salmon lists NG 2625 and the Melbourne painting as the first idea in his list of variations (1855–70) on the theme of Mortefontaine15. Robaut dates 'The Leaning Tree Trunk' and the Melbourne painting to 1855–65, prior to or concurrent with 'Souvenir of Mortefontaine'. 
In the most recent studies by Nathalie Michel and Vincent Pomarède the Reims picture has been given a date of 1860 to 1865, thus concurrent with 'Souvenir de Mortefontaine'. Although the Reims picture can indisputably be given first place in the series, it is perfectly feasible that Corot painted the variants, including NG 2625, in the first half, or possibly second half of the 1860s.
Copy
A copy signed 'TH.R.' was at Christie's, South Kensington, 26 August 2004, lot 15316.  
Previous owners
'The Leaning Tree Trunk' was in the collection of Alexander Young (1828–1907), an accountant in London who for many years headed the firm of Turquand, Young and Co17.  In his day Young was considered the most discerning of the group of late nineteenth-century collectors who built up large collections of French and Dutch landscapes.
In 1906 he sold his entire collection to the dealer Agnew's, who in turn sold the pictures privately to individuals, dealers and galleries. One of the buyers was George Salting (1836–1909), who comparatively late in his life added to his existing collection of Italian, Dutch and British pictures a group of French landscapes, almost all from the Young collection18.  In 1907 he placed a number of these on loan to the Gallery, including The Leaning Tree Trunk, and this was among the pictures selected by the National Gallery when his collection was bequeathed in 1910.
1. As noted by  Roy 1999, pp. 330–42  (332)

2. See, for example,  Alfred Robaut, Documents sur Corot, Bibliothèque Nationale de France, Cabinet des Estampes,  Yb3 949, II, p. 15, which is quoted in A. Roquebert,  'Quelques observations sur la technique de Corot', in Corot, un artiste et son temps. Actes des colloques organisés au Musée du Louvre par le Service Culturel les 1er et 2 mars 1996 à Paris et par l'Académie de France à Rome, Villa Médicis, le 9 mars 1996 à Rome, Paris and Rome 1998, pp. 73–97 (90). For a further discussion on Corot's use of greens see the entry for The Roman Campagna, with the Claudian Aqueduct (NG 3285).

3. See R. Woudhuysen-Keller, 'Observations Concerning Corot's Late Painting Technique',
Barbizon. Malerei der Natur – Natur der Malerei, eds A. Burmester, C. Heilmann and  M.F. Zimmermann, Munich 1999, pp. 192–200 (193).  Commercialisation of cadmium began in the 1840s, but it was initially both scarce and expensive. In a Devoe and Co. (New York) catalogue of 1878 cadmium yellows and orange cost 15 dollars a pound, to chrome yellow's 70 cents a pound.  See  I. Fiedler and M.A. Bayard, 'Cadmium Yellows, Oranges and Reds', in  R.L. Feller ed., Artists' Pigments. A Handbook of Their History and Characteristics, vol. 1, Washington DC and Oxford 1986, pp. 68–9. Cadmium yellows and oranges have been identified on Corot's palette in the Louvre. See A. Roquebert,  'La technique de Corot' in V. Pomarède et al., Madrid and Ferrara 2005–6, pp. 57–71 (66), French translation, pp. 343–7 (345), Italian edn, pp. 59–71.

4. Oil on canvas, 44.3 x 58.5 cm. Felton Bequest, 1907. See R. Zubans, The Barbizon Painters, National Gallery of Victoria, 1983, pp. 7–8; Preston 1983, pp. 502–7 (502), and Hoff 1995, p. 70. Preston states that NG 2625 has a 'brighter and faintly warmer evening tonality'. Both are mentioned in G.E. Halton's article on Young's collection in The Studio in 1906. He talks at length about the Melbourne picture: `The wonderful gradation of tones in the trees and foreground, the subtle beauty of the distant view, the massing and treatment of the trees against the luminous sky - all these could belong only to Corot. The composition is superb, while the colour-scheme shows the artist's usual dignified restraint. But it is the poetry and rhythm in the picture which appeal most to the beholder, and for that reason the full extent of its beauties cannot be realised at once; indeed we know of no other Corot which has more reserve. It is a small picture, about 24 inches by 16 inches.' About NG 2625 he has this to say: `The collection contains another picture, similar in arrangement, but it is an evening effect.' See Halton 1906, pp. 3–22 (9).

5. The drawing was no. 146 in Corot. Le génie du trait. Estampes et dessins, exh. cat., Paris 1996. Claude Bouret  (p. 95) states that the drawing is a study for the picture of 1855–60 in the Metropolitan Museum of Art, but he must surely mean Melbourne. 

6. L. Eitner, The Collections of the National Gallery of Art Systematic Catalogue. French Paintings of the Nineteenth Century. Part I: Before Impressionism, National Gallery of Art, Washington 2000, pp. 78–81,  compares it compositionally with Souvenir of  Mortefontaine, but it is actually closer to this group.

7. See Michel 2005–6, pp. 213–36 (220), and French translation, pp. 377–82 (378), and Pomarède 2009, p. 177.

8. Related paintings include Boatman at Mortefontaine (1865–70) (New York, Frick Collection, which also holds its study, R1671), Morning Mists at Mortefontaine (R1669) and Gathering at Mortefontaine (Schoeller and Dieterle 1948, no. 58); Gathering at  Ariccia (R2320); The woodcutter in the clearing  (R1916); Love passes. Souvenir of  Mortefontaine (R1672); Gathering at  Mortefontaine (R1670) and  Little  Souvenir of Mortefontaine (R1222).  For further examples see Eitner 2000, pp. 78–81, and Bazin 1942, pp. 53–4, 3rd edn 1973, pp. 48–50. A charcoal drawing with a related composition was at Sotheby's, London, 14 June 2005, lot 244.

9. Corot's views of the Mortefontaine area are R889, R898, R899, R900. The views of the Italian lakes are R357, 358, 455 and 359. See  V. Pomarède, M. Pantazzi and G. Tinterow,  Jean-Baptiste Camille Corot (1796–1875), exh. cat., Paris/Ottawa/New York, 1996–7, pp. 301–2.

10. Bazin 1973, pp. 48–50.

11. [Anon.] `The French School in the National Gallery', Burlington Magazine, XIII, 1908, pp. 339–40. 

12. H. Toussaint, G. Monnier and M. Servot,  Hommage à Corot, exh. cat., Paris 1975, no. 78, pp. 88–90.

13. Bazin 1942, pp. 53–4; 1973, pp. 48–50.

14. Bazin 1942, pp. 53–4; 1973, pp. 48–50. Pomarède, Pantazzi and Tinterow write of the number of pictures where Corot made use of the 'combination of water, a clump of trees, and a single dramatically leaning tree, as seen here', and remark that some of the pictures are based on the pond of Ville d'Avray. They do not, however, make the distinction between the two forms of the composition. See Paris/Ottawa/New York 1996, pp. 301–2.

15. Salmon in Beauvais 1987, pp. 80–2.

16. Oil on canvas, 50.8 x 60.5 cm.

17. On Young see the obituary in The Times,  17 August 1907. E.G. Halton wrote a series of articles on Young's collection in The Studio in 1906 and 1907. For his importance to the National Gallery see Herring 2001, pp. 77–89.

18. For Salting see S. Coppel, 'George Salting (1835–1909)', in Landmarks in Print Collecting : Connoisseurs and Donors at the British Museum since 1753, ed. A. Griffiths, exh. cat., Museum of Fine Arts, Houston, and elsewhere 1996, pp. 189–210 ; and S. Coppel, 'Salting, George (1835–1909)', Oxford Dictionary of National Biography, Oxford 2004, vol. 48, pp. 768–70.

19. The author is grateful to Nathalie Michel-Szelechowska (formerly Nathalie Michel) for her information on both Nicholas and Duparc. Duparc wrote Salon reviews in Le Correspondant during the 1870s and edited the Correspondance de Henri Regnault, catalogue complet de H. Regnault, Paris 1873. 

20. The Melbourne picture was in his collection by 1888.

21. In Salting's notebook in the National Gallery archive the cost is noted as [£]5500. In the stock book of Young's paintings at Agnew's the painting is listed as no. 6, Young no. 79, bought by Salting on 8 December 1906. There is no price recorded. The author is grateful to Agnew's for giving access to the stock book.