Monsieur Pivot on Horseback
Related paintings
This equestrian portrait is unique in Corot's oeuvre but can be linked to other pictures painted much later in his life. In 1872 he painted Forest at Coubron (Washington, National Gallery of Art; fig. 6), which shows a horse and rider riding off into the distance along a wooded path.6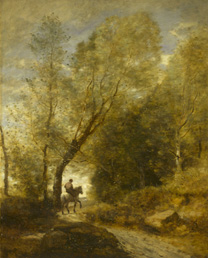 Unlike NG 3816, however, the horse and rider are set against a clearing, so that they are silhouetted against the sky. Also in around 1872 Corot painted a portrait of the children of G. Rodrigues-Henriquez in their father's property, the Parc des Lions at Port-Marly where Corot stayed in August 1872, The Promenade in the Parc des Lions at Port-Marly (R2127) (Madrid, Museo Thyssen-Bornemisza; fig. 7), which shows the same concern with figures, one on a donkey, the other in a light dress, against dark trees, and the light trunks of silver birches against dark forest.7 
The dating is of some interest if the painting is compared with two clichés-verre of around 1854: 'The Little Horseman in the Wood (Le Petit Chevalier)' (fig. 8) of January 1854, in which the rider and horse face in the opposite direction from Monsieur Pivot and 'The Large Horseman in the Wood (Le Grand Chevalier)' (fig. 9) of around 1854, in which the rider faces in the same direction. Although the figure is not Monsieur Pivot himself, and the horse is set against a gap in the woods, the overall composition, framed by curving silver birch trunks, is closely related. The figure on the horse is also closely related in stance to Monsieur Pivot, particularly in 'The Large Horseman'.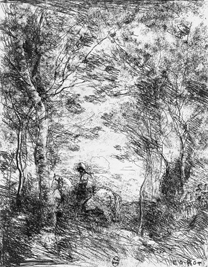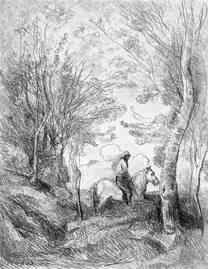 The gap in the trees can be explained by the fact that when working with outline only, and in monochrome, it would have been difficult for Corot to set the rider against a mass of foliage. This gap is repeated in the later Forest at Coubron but the position of the horse and rider in the clichés-verre is much more closely related to Monsieur Pivot.
It is probable that these clichés-verre were inspired by his painting of Pivot on horseback. Both Delteil and Melot refer in their catalogues of prints to a painting of the same subject, but are not more specific. It is possible that the painting was lost, or is the above-mentioned Forest at Coubron or this present work.8 Corot wrote to Constant Dutilleux about the print on 23 January 1854: 'I would ask you, if M. Cuvelier has not sent off the box, to send me by the same post, or later, if it has gone, three proofs of the light etching with the man on horseback which I like so much…'9
1. A. Roquebert, 'Quelques observations sur la technique de Corot', in Corot, un artiste et son temps. Actes des colloques organisés au Musée du Louvre par le Service Culturel les 1er et 2 mars 1996 à Paris et par l'Académie de France à Rome, Villa Médicis, le 9 mars 1996 à Rome, Paris and Rome 1998, pp. 73–97 and p. 95, note 14.
2. For a full discussion of materials and technique see article by S. Herring, 'Six Paintings by Corot in the National Gallery: Methods, Materials and Sources', National Gallery Technical Bulletin, 30, 2009.
3. In the dossier there are two reports by Tudor-Hart on the painting: the first gives a history of its condition and treatment prior to 1919, when he acquired it, the second gives a report of his own treatment when the painting was  in his possession. See also A.A. MacGregor, Percyval Tudor-Hart 1873-1954. Portrait of an Artist, London 1961, especially chapter XIII which is on the Corot painting itself.
4. Information from G. Matheron, Corot à Ville-d'Avray, exh. cat., Musée d'Avray, 1987, no. 39.
5. Alfred Robaut.  Documents  sur Corot. Quoted in G. Bazin, Figures de Corot, exh. cat., Paris 1962, p. 102, no. 41. This anecdote is embellished in MacGregor 1961, p. 172, where it is stated that Corot was struck by the appearance of the grey horse and the pale yellow hat against the foliage. He also goes on the state that Pivot commissioned Corot to complete it 'as a serious example of his work', and that Corot had the painting in his studio at the time of his death in order to add some finishing touches. This is obviously not the case, although it is certain that the artist did finish the painting back in the studio.
6. Madeleine Hours makes the link between the two paintings. See Hours 1984, p. 111.
7.It was exhibited in  Figures de Corot, Musée du Louvre, Paris 1962,  no. 80, where it was  linked to both Monsieur Pivot and Madame Stumpf and her Daughter of 1872 (R2125) (Washington, National Gallery of Art,  no. 81 in the exhibition) as pastoral scenes. R. Pickvance  included a further work which can be added to the group, Children in the Wood of 1872 (R2128), private collection (Corot. El Parque de los Leones en Port Marly, 1872, exh. cat., Madrid 2001, no. 3), where two children, one in a white and the other in a grey dress, stand against thick forest, where the odd silver birch trunk is picked out.
8. L. Delteil, Le Peintre-graveur illustré, Paris 1906–30, vol. V, 1910, no. 42 (TheLittle Horseman in the Wood) writes: 'Corot a traité plusieurs fois ce même sujet: en peinture, puis encore en dessin sur verre (voir le no. 46)'. M. Melot, L'Oeuvre gravé de Boudin, Corot, Daubigny, Dupré, Jongkind, Millet, Théodore Rousseau, Paris 1978, no. 42.
9. Letter in the Cabinet des Estampes, Bibliothèque Nationale, Paris. Quoted in Claude Bouret, Corot. Le génie du trait. Estampes et dessins, exh. cat., Paris 1996, p. 35.
10. The author is grateful to Nathalie Michel-Szelechowska (formerly Nathalie Michel) for her help in ascertaining the date of death for Edmond Coffingnon, and for further assistance with the provenance. 
11. According to McGregor, Edmond was about to sell it to an acquaintance for a song. The date of 1919 is given by Tudor-Hart in one of his reports in the dossier for the painting. Albert Renou, a noted architect at Blois and a mutual friend, looked after some money for Edmond which Tudor-Hart had sent him from the sale of the Corot to the National Gallery.
12. Information from the archives of Martin Dieterle, kindly conveyed by Nathalie Michel-Szelechowska.