Landscape at Arleux-du-Nord
There are two versions of this painting. Read our research to find out how 'Landscape at Arleux-du-Nord' differs from Corot's earlier painting.
Technical notes
Oil on canvas, lined, 48.2 x 58.1 cm (visible surface; up to 0.5 cm of the canvas edges are concealed by brown paper tape). Signed bottom right: COROT (the T slightly damaged) (fig.1)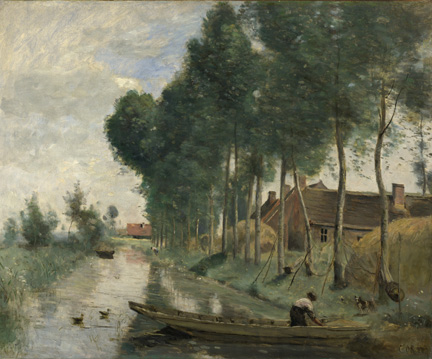 Support
The canvas is lined but the stretcher is original. The number 9754 is written on two labels and on the stretcher. The number 7111 is added in pen to a typewritten label.
Materials and technique1
The ground is white, consisting of lead white extended with china clay or talc, and a calcium compound. The most significant feature of 'Landscape at Arleux-du-Nord' is its light tonality, which is characteristic of a number of other paintings by Corot from the 1870s. While this can be seen as a return to the palette of his early work, for example 'Avignon from the West', probably painted in 1836, it has also been suggested that he was possibly responding to the Impressionist palette of Pissarro, Sisley and Monet.2
The painting also exhibits a formality of composition and clarity of style which can again be associated with his earlier period, and the foliage is less shimmering and more solidly painted.  However, closer examination does reveal some traits of Corot's characteristic late technique, for example the area of sky near the top left is extremely cursorily painted, using circular brushstrokes of thin paint.
He has used dark fluid paint to add extra branches to the tree furthest to the right, although there is less of this technique than in other late paintings such as 'The Oak in the Valley' (NG 6466). The foliage highlights in lighter and silvery greens are also typical of his late work; here a few branches have been extended over the sky, as if floating off the trees.
As was his practice throughout his life, Corot has painted the sky at a late stage of working, and the ground is visible around the trees where the sky has been brought around. Corot has extended the sky over some of the floating foliage on the right, the trees to the right, the bushes and trees on the left, and also over a branch in the gap in the trees at top centre (fig. 2).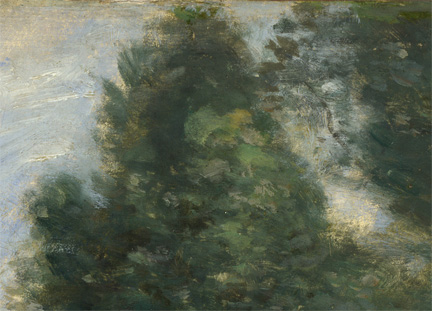 According to Robaut, NG 6531 was painted in two stages, in front of the motif in 1871, and back in the studio in 1874. Areas of the sky vary in both colour and thickness, suggesting reworking. However, technical evaluation is not conclusive. A paint sample taken from a thick layer of strong blue at the centre does not reveal two layers of paint added at separate sessions, suggesting that  in fact the whole of the sky was painted in one sitting, in all probability back in the studio.
Analysis of the paint media has shown that the artist used paints with different binders. In an area of green water the medium is linseed oil containing some pine resin, whereas in a touch of brighter green the medium is heat-bodied walnut oil with a trace of copaiba or a similar resin.3  It is not unusual, however, for different oils and resins to be used with different pigments in different parts of a picture. 
At the upper edge there is a thin varnish layer between the top yellow-green layer and a very pale layer of similar colour to the ground, and this is perhaps a varnish layer applied after the first campaign or just prior to the second.  For further evaluation of Corot's reworking touch the Subject tab above.
Conservation and condition
NG 6531 has not been treated by the Gallery. The paint is in generally good condition but the varnish is slightly yellowed.
1. For a full discussion of materials and technique see article by S. Herring, 'Six Paintings by Corot in the National Gallery: Methods, Materials and Sources', National Gallery Technical Bulletin, 30, 2009.
2. See M. Pantazzi, V. Pomarède and G. Tinterow,  Jean-Baptiste Camille Corot (1796-1875), exh. cat., Paris/ Ottawa/New York 1996–7, p. 266.
3. White, Pilc and Kirby 1998, p. 80.
4. For Corot's work in northern France see D. Horbez, Corot et les peintres de l'école d'Arras, Tournai 2004.
5. R2018, height 46 cm, length 60 cm. This version was no. 54 in Exposition Corot 1796–1875, Galerie Schmit, Paris, 1971. Robaut cites two etchings after this version: one by  Léon Gaucherel (1816-1886) (Galerie Durand-Ruel) and  one by his pupil, Lucien Marcélin Gautier (1850–1925) (Keppel editions). A further example of their collaboration is Corot's Souvenir d'Arleux du Nord (R2189), which was painted for Robaut.  The latter, to help Corot, sketched the canvas with a drawing after one of his own sketches made in 1871. Corot painted his work over this preparation. Exhibited at the Salon of 1874 (no. 458), this also went from Robaut into the Verdier collection.
6. Verdier was a keen collector of Corot's work, and owned at least 39 of his paintings. Writing of the period March  1873, Moreau-Nélaton states: 'En même temps, il poursuivait sa besogne courante, pour satisfaire la nombreuse clientèle qui le harcelait: les Brame, les Tédesco, les Beugniet, les Durand-Ruel, les Breysse, les Weyl, les Audry, sans compter Cléophas et son neveu Surville, Oscar Simon, Hermann, le dentiste Verdier et le médecin Cambay.... M. Robaut lui même revendiquait sa part des chefs-d'oeuvre qu'il voyait éclore, quotidiennement, et Corot la lui abandonnait volontiers.'  Moreau-Nélaton in  Robaut 1905, I, pp. 181–2.  In this case Verdier did not acquire the painting from Corot, but from Robaut, possibly at Corot's suggestion.