Follower of Jan Gossaert (Jean Gossart), 'The Magdalen'
Introduction
Lorne Campbell
From 'National Gallery Catalogues: The Sixteenth Century Netherlandish Paintings with French Paintings before 1600.
Publication notes
To coincide with the Jan Gossaert's Renaissance exhibition, the full catalogue entry of the Follower of Gossaert's The Magdalen, taken from 'The Sixteenth Century Netherlandish Paintings with French Paintings before 1600' by Lorne Campbell, has been published on the Gallery website in advance of book publication are published on the Gallery website. Find out more about the catalogues.
Lorne Campbell is George Beaumont Senior Research Curator at the National Gallery. He is the author of numerous publications including The Fifteenth Century Netherlandish Paintings in the new series of National Gallery Catalogues.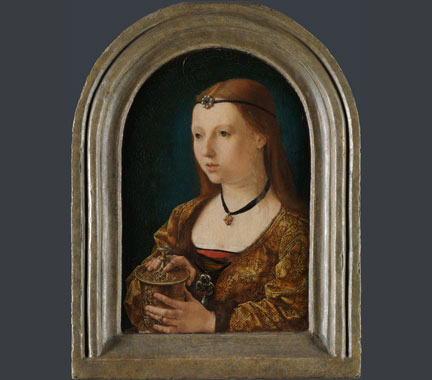 Images
All images are copyright of the National Gallery unless stated otherwise.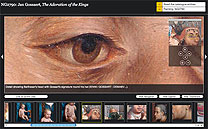 Some images may be enlarged with the Image Viewer, which is available as a link below the image caption.
The Image Viewer may be opened in a new window, to enable the viewing of enlarged images alongside the catalogue entry.
A note on names
Gossaert's name was in fact Jean Gossart, although the Dutch translation 'Jan Gossaert' gradually gained currency during the second half of the 19th century and became standard during the 20th century.
He is sometimes referred to as 'van Mabuse', from Maubeuge, where he was born in about 1478. Maubeuge was in the imperial county of Hainault, then part of the Burgundian Netherlands but now divided between Belgium and France. Always a French-speaking town, Maubeuge became part of France in 1678. 'Jean Gossart' is the spelling used within the text of this catalogue entry. At present 'Jan Gossaert' is used in other contexts on the website.
Download
A text-only version of this catalogue entry:

Follower of Jean Gossart, 'The Magdalen' – Lorne Campbell
[PDF 393kb – opens in a new window]
To cite this catalogue entry we suggest using
Lorne Campbell, 'Follower of Jean Gossart, The Magdalen' published online 2011, from 'The Sixteenth Century Netherlandish Paintings with French Paintings before 1600', London: forthcoming. http://www.nationalgallery.org.uk/paintings/research/follower-of-jan-gossaert-the-magdalen
Further Sections
---

Problems opening files? Get Adobe Reader [External link]