Jan Gossaert (Jean Gossart), 'The Adoration of the Kings'
Exhibitions, copies and versions
Exhibitions
Possibly London 1787 (at Greenwood's, Leicester Square: see above); London BI 1851 (1); Manchester 1857 (provisional catalogue 517; definitive catalogue 436); London RA 1885 (230); NG 1945–6 (9); NG 2000 (31); NG 2011 (8).
Copies
Many copies are known, all of which appear to be seventeenth century or later.
1. Sir Charles Turner (deceased) sale, Berlin (Lepke), 17 November 1908 (30), painted on copper, 80 x 74 cm.
2. Private collection, Belgium (photographs at the NG).
3. Formerly in the church of Our Lady of the Zavel, Brussels: seen there in the 1620s by Dubuisson-Aubenay.31
4. Formerly in the Cremer collection, Dortmund, on canvas, 217 x 165 cm.32
5. Formerly at Geraardsbergen, abbey church of St Adrian, a copy, replacing the original, was still there at the end of the eighteenth century.33
6. Mexico City, Museo de San Carlos, panel, 80 x 73 cm.34
7. Wittelsbacher Ausgleichfonds, Munich, WAF 163, on panel, 119 x 87 cm, stated to be dated 1601.35
8. Parish church of St John the Baptist, Nethen (south of Leuven, north-east of Wavre), 154 x 150 cm.36
9. National Gallery, Prague (O 10488), on canvas, 100 x 73.5 cm, monogrammed IF (? for Joseph Führich, 1800–1876), acquired in 1949 from the National Restoration Fund, Prague.37
10. Tula Art Museum, Tula (south of Moscow), panel, 131.5 x 98 cm, stated to be dated 1601.38
George Scharf's copies, made at the exhibitions of 1857 and 1885, are in his sketchbooks at the National Portrait Gallery: SSB 47, pp. 41–2; SSB 111, fols 9v–14. The picture was photographed in 1857: see 'Photographs of "Gems of the Art Treasures Exhibition", Manchester 1857' by Signori Caldesi and Montecchi, London and Manchester 1858, 'Ancient Series', No. 12.
Versions
An 'Adoration of the Kings', formerly in the Ashburnham collection and now in the Maternuskapelle of Cologne Cathedral (painted on oak, 125 x 225 cm: fig.9), may be classified as a free version.39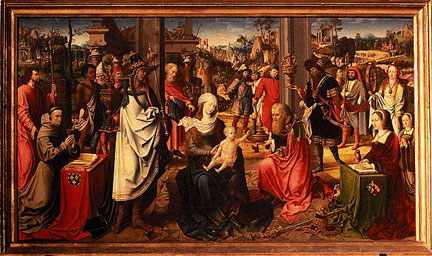 Further Sections
31. 'Dans le choeur de Notre-Dame du Sablon, il y en a un tout semblable pour l'histoire, mais la moitié moindre en grandeur, estimé 3000 francs; il est en la paroy du choeur au coing de l'Evangile de l'autel': Halkin 1946, p. 60.
32. 'Collection Geh. Kommerzienrat Cremer Dortmund', Dortmund 1914, text, p. 28; plates, part I, plate 13.
33. Van Bockstaele 2002, p. 98 and notes 181, 182.
34. Exh. cat. Mexico City 1964, p. 13 (33), reproduced.
35. 'Katalog der im Germanischen Museum befindlichen Gemälde', 3rd edn, Nuremberg 1893, p. 14 (46), from the Boisserée collection.
36. Destrée 1930; reproduced in colour by Van Bockstaele 2002, p. 96. The two dogs are omitted; a monkey is included in the centre of the foreground; some of the colours differ. In the early seventeenth century, Nethen belonged to Edouard Scheyfve, whose father Jean Scheyfve (c.1515–1581) had been Chancellor of Brabant (Galesloot 1870–84, vol. I, p. 338).
37. Kotková 1999, p. 76.
38. Yamschikov 1973, not paginated, entry by I. E. Lomize, with colour plates.
39. Weale 1905; exh. cat. Cologne 1982–3, pp. 203–4 (83).