Federico Barocci, 'The Madonna of the Cat ('La Madonna del Gatto')'
Carol Plazzotta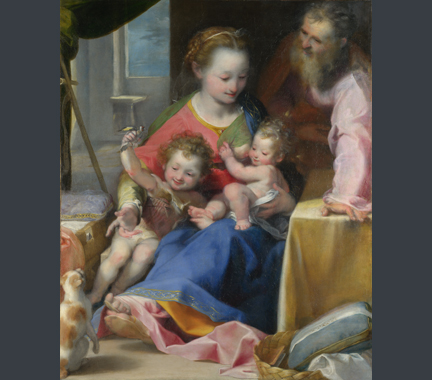 Federico Barocci
NG29
'The Madonna and Child with Saint Joseph and the Infant Baptist ('La Madonna del Gatto')', probably about 1575
Oil on canvas, 112.7 x 92.7 cm
Publication notes
The following catalogue entry for the National Gallery's 'La Madonna del Gatto ('The Madonna of the Cat')', by Carol Plazzotta, is from Federico Barocci: Renaissance Master of Color and Line by Judith Mann and Babette Bohn, with Carol Plazzotta.
First published in 2012 to accompany exhibitions at the Saint Louis Art Museum and the National Gallery, it is reproduced online courtesy of Saint Louis Art Museum and Yale University Press.
© Saint Louis Art Museum and Yale University.
'The Madonna of the Cat ('La Madonna del Gatto')' was bequeathed to the National Gallery in 1831, and is the only easel painting by Barocci in a British public collection.
Download the entry

'The Madonna of the Cat ('La Madonna del Gatto')' — Carol Plazzotta
[PDF 3.7mb – opens in a new window]
About the catalogue
Federico Barocci (about 1533–1612) was one of the most innovative Italian artists of the second half of the 16th century. His art combines the Renaissance focus on the human body with an unparalleled use of colour and light. His dynamic compositions challenged the limitations of traditional pictorial boundaries, becoming a model for Baroque artists of the following century. Nearly 1,500 drawings by Barocci survive, providing invaluable insight into the artist's process and thinking.
Essays by leading scholars discuss the role of Urbino – Barocci's hometown – in the artist's development; his pioneering approach to religious subjects; his technique as a draughtsman; the interdependence of painting and drawing in his work; and his use of red underpaint. The catalogue entries treat 19 groups of paintings and drawings, including many previously unpublished sheets, and reveal the breadth and significance of Barocci's oeuvre.
About the author
Carol Plazzotta is Myojin Senior Research Curator at the National Gallery. Her previous publications include:
C. Plazzotta and N. Turner, 'Drawings by Guercino from British Collections', London 1991.
L. Hendrix , C. Plazzotta, and N. Turner, 'The J. Paul Getty Museum. Catalogue of the Collections: European Drawings 3', Los Angeles 1997.
C. Plazzotta, 'Beccafumi's 'Story of Papirius' in the National Gallery' in 'The Burlington Magazine', vol. 143 (2001), pp. 562–6.
H. Chapman, T. Henry and C. Plazzotta, 'Raphael: From Urbino to Rome', exh.cat., The National Gallery, London 2004.
http://www.nationalgallery.co.uk/products/artists_books/raphael_from_urbino_to_rome/p_1018155
C. Plazzotta, M. O'Malley, A. Roy, R. White, and M. Wyld,  ''The Madonna di Loreto': An Altarpiece by Perugino for Santa Maria dei Servi, Perugia' in 'The National Gallery Technical Bulletin', vol. 27 (2006), pp. 72–95.
http://www.nationalgallery.org.uk/technical-bulletin/plazzotta_omalley_roy_white_wyld2006
To cite this catalogue entry we suggest using
C. Plazzotta, 'The Madonna of the Cat ('La Madonna del Gatto')' in 'Federico Barocci: Renaissance Master of Color and Line', exh.cat., Saint Louis Art Museum, Saint Louis, Missouri 2012, pp.144–57.
http://www.nationalgallery.org.uk/paintings/research/federico-barocci-the-madonna-of-the-cat-la-madonna-del-gatto
---

Problems opening files? Get Adobe Reader [External link]