1. Introduction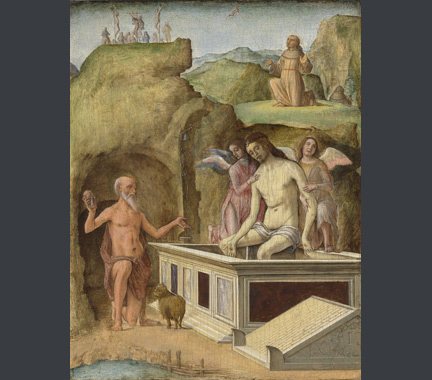 Time is elusive. How then do painters capture it?1 Unlike music, the written word, theatre or film, which all incorporate duration, an image is normally a single frame. There are nevertheless many types of multiple images such as fresco cycles, double-sided paintings and illuminated manuscripts, as well as a vast number of works that deploy simultaneous representation of different narrative episodes within the same picture (fig. 1). Even in pictures which focus on a single event, narrative movement, flow and sequence are structured within the work.2 In non-narrative pictures dress, architectural settings and the painter's style may evoke a specific period or complicate any sense of period. So images incorporate time in multifarious ways. This section is concerned with the evocation of time in relation to paintings of the Nativity and the Adoration of the Christ Child. What roles does architecture play in creating, structuring, or confusing time in these pictures?

Although we might expect some attempt to render the historic moment or period of Christ's birth in these pictures, in practice artists were rarely concerned with archaeological reconstruction, instead taking inspiration from previous artists' versions and from accounts of the Nativity in texts such as The Golden Legend, and the visions of Saint Bridget of Sweden.3 The passage in 'The Golden Legend' which describes how the Temple of Peace in Rome (the building known as the Basilica of Constantine or the Basilica of Maxentius, fig. 2) crumbled on the night of Christ's birth, was adopted by European artists to convey the rupture and momentous historic change brought about by Christ's birth – year zero as it was later to be established by Christians.4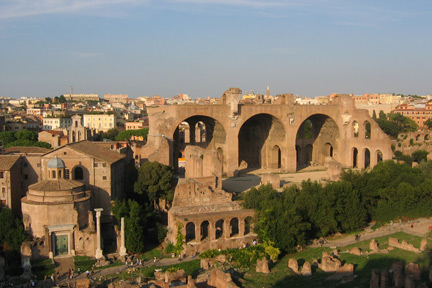 The ancient ruin symbolised the old order that was now replaced by the new order: the new-born Christ. The power of this visual message lay in its juxtaposition of a decaying old building standing for the whole civilisation of Ancient Rome, with a living baby around whom the whole of Christianity was formed. The concept is chronological nonsense because Christ was born in a period when the Holy Land and all Europe were ruled from a thriving Roman Empire, so Rome was not in ruins at the time of his birth. Painters could have attempted to paint the very moment when the Temple of Peace fell down, but they usually chose instead to depict a ruin as it would have appeared after centuries of decay. As well as being much easier to paint, the slowly deteriorating ruin was a stronger metaphor for the decline of pagan antiquity and its replacement by Christianity than a single drastic collapse. One reason for this is that a decaying ruin incorporates antiquity and duration, yet is appealingly non-specific. Above all, these are not realistic narratives about a single historical moment, but are visual metaphors based on biblical symbols surrounding the idea of ruin and renewal, such as the passage in Luke's Gospel referring to the infant Christ: 'Behold, this child is destined for the ruin and for the resurrection of many in Israel'.5
The paintings were designed to serve a living religion. The time evoked in the image needed to be useful for the Renaissance worshipper, to make a strong religious point rather than investigating history or attempting to be chronologically accurate. A closer look at artists' interpretations of the Nativity and related scenes may help us to understand their approach to time and to the visual metaphors surrounding Christ's birth.
Read further sections in this essay
To cite this essay we suggest using
Amanda Lillie, 'Architectural Time' published online 2014, in 'Building the Picture: Architecture in Italian Renaissance Painting', The National Gallery, London, http://www.nationalgallery.org.uk/paintings/research/exhibition-catalogues/building-the-picture/architectural-time/introduction
For full details of the publications see Further Reading
1. For recent literature on this subject see Nagel and Wood 2010. On time and architecture see Trachtenberg 2010. This section has greatly benefited from the insights of my friends and colleagues Anthony Geraghty and Felicity Riddy.
2. A good example of this is Ghiberti's 'Solomon' panel from the 'Gates of Paradise' in Florence. See Krautheimer 1982, p. 181.
3. Searby and Morris 2007 and 2009.
4. Voragine 1993, vol. I, p. 48; Warburg 1999, pp. 247, 262 note 68, 455–6; Hatfield 1976, pp. 56–9; Nagel and Wood 2010, p. 302; essay by Günther in Millon and Lampugnani 1994, pp. 276–7, and catalogue entries by Jobst and Kleefisch-Jobst, cat. nos 12–16, in ibid., 432–6; Cornell 1924, pp. 47–50.
5. Luke, 2: 34, quoted in Hatfield 1976, p. 58.