Peter Paul Rubens

, 'A Roman Triumph', about 1630

This painting – full of action, colour, and movement – is a treat for the senses.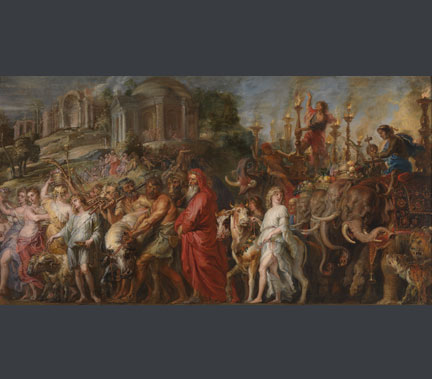 The sounds of the scene – a Roman procession leading animals to sacrifice – would be ear-splitting: Men blow trumpets, one of which is shaped like an animal's head, whilst others play flutes. Animals add to the cacophony; the sacrificial bull bends its head and lows, elephants enthusiastically trumpet, and in the far right corner a lion and lynx growl.
The smells would be intoxicating: Each elephant carries an incense burner (the vast number indicates the size of their troop) and a basket of sweet-smelling fruits on their heads. There are also baskets of fresh flowers, carried by young women who lead the procession.
The colours of the painting become progressively darker, from the pastels of the maidens on the left to the deep red of the priest's clothing and surrounding shadows on the right; drawing the eye along the confusion of the procession.
It is a celebration, one that will culminate in the bull's ritual sacrifice at the hands of the man with the axe and overseen by the priest, however it is unclear what the festivities are for. The title suggests it may be a military victory.
The painting partly derives from Andrea Mantegna's series of 'The Triumphs of Caesar' which are now at Hampton Court. Rubens would have known these well as they belonged to the Duke of Mantua during the time that Rubens worked for him from 1600 to 1608. In 1629, when Rubens was on a diplomatic mission to England, they were bought by Charles I and although they did not arrive until 1630, after Rubens had returned to Antwerp, he may well have been inspired by the news of their purchase to use them as the basis of a painting.
'A Roman Triumph' has been carefully selected as the 2015/16 focus painting for the Gallery's Take One Picture countrywide scheme for primary schools. Each year the Gallery focuses on one painting from the collection to inspire cross-curricular work in primary classrooms. Teacher CPD dates for 2015-16 are now open for booking.