Peter Paul Rubens, 'Peace and War', 1629–30
War was an everyday fact of life for Rubens who lived and worked in Antwerp in the Spanish Netherlands (what is now Belgium) in the 17th century.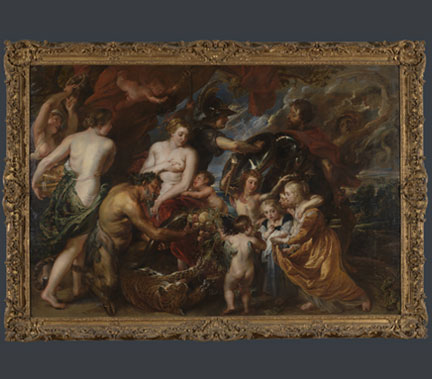 As well as being an enormously successful painter, Rubens played an important diplomatic role in European politics. In 1629 he was sent to England by the Spanish King Philip IV to carry out peace negotiations between the two governments.
Rubens presented the finished work to Charles I of England as a gift, and it demonstrates how he marshalled his artistic genius to try and persuade the king of the necessity and desirability of peace over the horrors of war. Although we need to decode the painting to understand it now, its meaning would have been immediately understood at the time.
In the centre, the naked figure of Pax (Peace) nourishes a child, Plutus (the god of wealth) with milk from her breast. They are encircled by figures who emphasise the bounty of peace; a nymph carries a golden bowl filled with jewels; another shakes a tambourine – representing the flourishing of the arts. A satyr holds a cornucopia overflowing with ripe fruits, and a leopard rolls playfully on its back – both part of the entourage of Bacchus, another fertility god.  
Peace is not just the absence of war, but also the source of abundance. Approaching from the right are three small children, guided by a putto and a boy carrying a torch (who is Hymen, god of marriage) toward the satyr's cornucopia. The girls and boy are identifiable as the children of Balthasar Gerbier, Rubens's host during his stay in London who reappear in another portrait. The youngest girl looks out of the painting, directly engaging the king and seeming to implore him for peace.
Behind Pax, Minerva, goddess of wisdom and the arts, drives away Mars, god of war, and Alecto, the fury of war.
More paintings from the collection