Canaletto: 'The Stonemason's Yard'
This view of the Grand Canal is less ostentatious than many of Canaletto's paintings of Venice.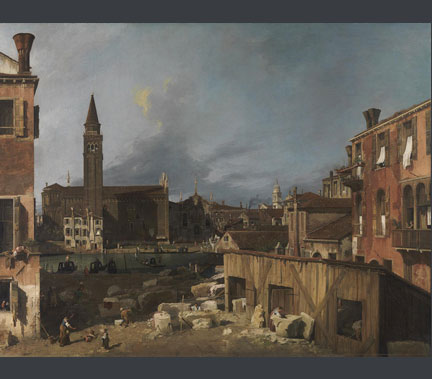 Canaletto's more familiar landscapes depict the famous sites of Venice – Piazza San Marco, the Doge's Palace, as well as the Grand Canal – and became very popular with young wealthy Europeans touring the continent.

This painting, however, is more focused on everyday incidents of local interest, leading us to wonder who this was painted for and what life was like for the inhabitants of this great city. 

In the foreground we see a temporary wooden building, set up to operate as a stonemason's yard. Huge chunks of stone are being shaped to repair the nearby Church of San Vidal (not shown in the picture). Local inhabitants go about their daily chores on washing day; a woman draws water from a well by the workmen's hut while another spins yarn on a sunny balcony above. Nearby, a woman has stopped her sweeping to go to the aid of her child who has fallen over. 

The strong shadows cast by the sun add depth to the architecture of the scene. The still intensity of the sunny day is assuaged by a slight breeze, animating the white curtains of the terracotta-coloured building on the right and the washing being hung out on the far side of the canal.

This view, once primarily familiar to locals, is today more recognisable to visitors of Venice − particularly those interested in art; the Church of Santa Maria della Carità now houses the Gallerie dell'Accademia. Today, the view is dominated by the wooden Accademia Bridge whose footings are situated where Canaletto includes the two white houses across the canal. They were dramatically destroyed when the tall 'campanile' (bell tower) of the Church fell down in 1744.


More paintings from the collection