Jan Gossaert,  'A Young Princess (Dorothea of Denmark?)', about 1530
Who is the sitter in this wonderfully expressive portrait?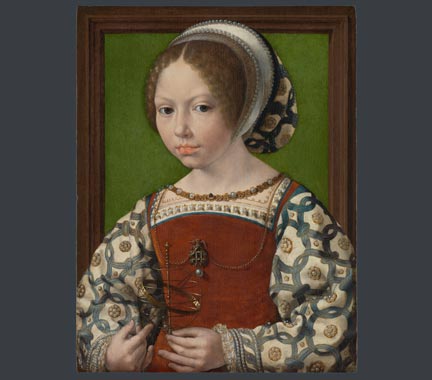 The dress of this child, aged perhaps nine or ten, is too magnificent for her to be anyone other than the daughter of a wealthy and very important lord. Her sleeves are embroidered with gold thread and pearls, as is her snood. Now faded, the blue of her sleeves would originally have been a bright purple and the red of her bodice would have shone vibrantly.
The only young girls in Gossaert's part of Europe (the Low Countries) at this time who are likely to have worn such elaborate  clothing were the daughters of the King of Demark; Christina and Dorothea. A further clue lies in an earlier portrait of Gossaert's (now in the Royal Collection) – of the sisters alongside their brother – and it's possible to see a likeness between the Dorothea in that painting and this girl.
Their father, King Christian II of Denmark, was deposed in 1523 – a fact perhaps alluded to in this painting. Dorothea holds an armillary sphere (an astronomical device), and draws our attention to a particular point – roughly 55 degrees north of the equator. Copenhagen is roughly 56 degrees north, a deliberate reference perhaps to her father's lost kingdom. The sphere, or world, is upside down – surely a deliberate move, given Gossaert's knowledge – hinting further to the upended order of a king forced into exile.
View the painting in the Image Viewer.
More paintings from the collection