Giovanni di Paolo: 'The Birth of Saint John the Baptist: Predella Panel', 1454
John the Baptist's birth, on 24 June, was a miraculous event given that his mother, Saint Elizabeth, was well past childbearing age.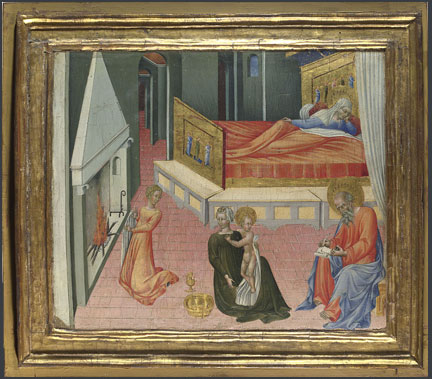 This charming little painting depicting the event, hangs in a room dominated by large Renaissance altarpieces and battle scenes. However, its exquisite colouring, gold highlights and lively figures draw you from these monumental works to the highly decorative and detailed scene.
The panel is the first in a series of narratives that illustrate scenes from the life of John the Baptist and once formed part of a predella of an altarpiece. The other scenes represent 'Saint John the Baptist retiring to the Desert', the 'Baptism of Christ' and the 'Head of John the Baptist brought to Herod'. The panels would have been set below the main tier of an altarpiece, probably Giovanni di Paolo's 'Virgin and Child with Saints' (New York, Metropolitan Museum of Art) which also includes John the Baptist.
The artist depicts the birth of the saint, anachronistically, within an elegant Italian Renaissance palace. Elizabeth appears fatigued after having given birth and reclines on a gold bed decorated with paintings. A midwife bathes the infant saint in a golden basin in the foreground, while another warms a swaddling cloth for the newborn by the fire.
At the right, John's father, Saint Zacharias, writes on a scroll. Zacharias' inclusion refers to a slightly later event, the naming of John the Baptist, which took place eight days after the birth. According to the gospel account, Zacharias was compelled to write the words 'His name is John' as he had been rendered mute in punishment for disbelieving an angel who revealed that his formerly barren wife would bear a child. Upon writing the words, Zacharias' speech was returned to him. New Testament (Luke 1: 57-64). 
More paintings from the collection