Willem Kalf: 'Still Life with Drinking-Horn', about 1653
In what ways does Kalf appeal to our senses with this delicious display of luxury goods?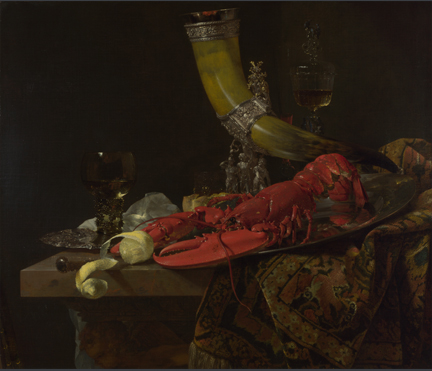 This painting is alive with sensory possibilities: the bittersweet lemon alongside the gleaming red lobster tickles our taste buds, whilst the surfaces of the thick rug, the smooth silver platter and the twist of the buffalo horn drinking cup seem so real we can imagine how they feel.

Whilst it's tempting to reach out for a glass of wine or a bite of pie, it appears that at any moment this arrangement of beautifully crafted luxury items could topple from the table and disappear.

Kalf uses colour, reflection and light to lead our eyes around the composition; the strongest colours are at the centre, and get softer towards the outer parts of the painting. A glimpse of the reflected lobster in the tip of the drinking-horn introduces a flash of colour to an otherwise sombre part of the painting, and the soft red of the reflections in the silver platter directs our gaze to the precariously arranged rug.

The drinking-horn was the property of the St Sebastian Archers' Guild in Amsterdam and the other objects in the painting represent wealth and luxury, celebrating both the trading links of the Dutch Republic and Dutch goods.

Kalf's 'Still Life' might be showing pride in this material wealth but it is also possible that the composition carries a warning: it is easy to be seduced by the stuff of this world, but how easily that might all fall away and disappear.
Find out more at our 10 minute talks – every Friday in June at 4pm.
More paintings from the collection