George Stubbs, 'Whistlejacket', about 1762
So lifelike is this portrait of Whistlejacket, a prized 18th century racehorse, it seems hard to believe we are not looking at a modern photograph pasted onto a canvas.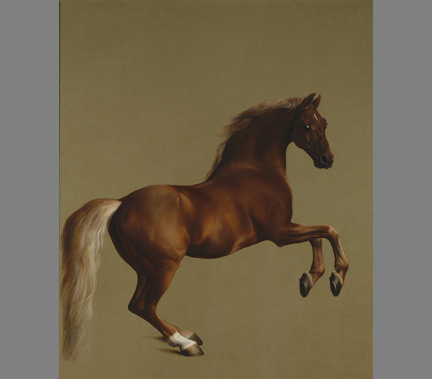 Stubbs manages to capture Whistlejacket's vitality and power through minutely observed details; his flaring nostrils, the bulging veins on his muscular rump and the tracery of veins below his wide intelligent eyes which meet our gaze so intensely.
His unusual name probably comes from his shimmering copper coloured coat, 'Whistlejacket' being a cold remedy containing gin and treacle. He only lost four races in his entire career and became a favourite of his owner, the 2nd Marquess of Rockingham, who commissioned this portrait from Stubbs.
The lifelike quality of the painting is even more spectacular considering Stubbs was largely self-taught. Before becoming a painter, however, he built a reputation as an anatomical lecturer and illustrator. A few years before painting Whistlejacket, Stubbs spent over a year dissecting horses - making detailed drawings of their muscles, ligatures and skeletons - sometimes spending 11 weeks on a single carcass.
The shock of the apparent modernity of the painting format with its plain background has led to much speculation... was the original intention to paint Whistlejacket with a rider?
More paintings from the collection