Piero della Francesca, 'The Nativity'
On her knees, her rumpled cloak contrasting with the bare ground, our attention is drawn to Mary.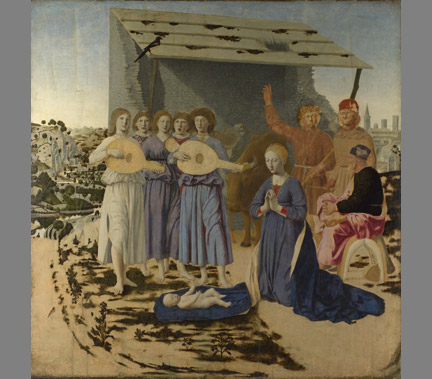 Mary's maternal love is demonstrated by the act of laying her cloak on the ground to protect the naked, vulnerable infant Christ – and, more deeply, through her knowing gaze – which is returned by Christ as he reaches up for his mother.

Mary is the only figure in the painting directly looking at Christ, making their connection all the more potent. In one sense the painting appears stark and monumental, while in other ways it is gently and poignantly personal.

Each person, angel and animal shows a different attitude of reverence towards the infant Christ. Behind Mary, Joseph is listening in wonder to what the shepherds (their faces now lost in detail) are relating. One of them points upwards as he describes the appearance of the angel in the sky to tell them of Christ's birth.

On the left, a group of angels play musical instruments and sing their praises of the Son of God. Unusually, they have no wings. Even the magpie, well-known in Piero's native Tuscany for its constant chatter, seems changed and looks to be struck silent.

Only the donkey, symbolising the 'non-believer', seems to be braying; but he may be eating hay that has now disappeared. In any case, he ignores the miraculous event. The ox, on the other hand, or 'believer' looks on intently.
Find out more about this painting at this month's 10-minute talks – every Thursday at 4pm.
More paintings from the collection