Sir Joshua Reynolds, 'Lady Cockburn and her Three Eldest Sons', 1773
When this painting was first exhibited at the Royal Academy, the crowd of fellow painters, according to a pupil of Reynolds, burst into spontaneous applause.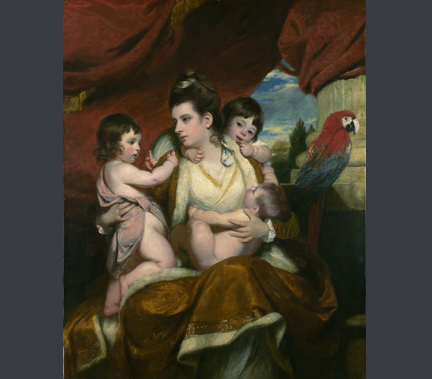 The portrait illustrates a theory that Reynolds expounded. In lectures given at the Academy, published as 'Discourses on Art', Reynolds proposed that portraiture (thought of as the 'bread and butter' of British artists in this period), could be raised to the level of history painting by the adoption of themes and motifs from the art of Old Masters.

In this portrait, the composition of Lady Cockburn and her sons has long been recognised as being based on Van Dyck's 'Charity'. Reynolds also seems to have taken inspiration from Velázquez with the pose of the son on the left echoing that of the cupid in Velázquez's 'Toilet of Venus'.

One indication that Reynolds was proud of this work is the inclusion of his signature on the hem of Lady Cockburn's cloak, an attribute he only applied to certain paintings. 

The portrait was commissioned by Lady Cockburn's husband, Sir James, and the boys in the painting are the couple's three eldest sons - James on the left, George in the centre and William, the baby - who all grew up to have successful careers in the Army, Navy and Church respectively. George, who became an Admiral in the Navy, commanded the joint naval and military operation that, in 1814, attacked and burned Washington DC.

Portraits of male sitters at this time frequently showed them in clothes that revealed their occupations or interests. For aristocratic women like Lady Cockburn who did not work, this was not possible. However, by depicting her raising her children, Reynolds has elevated her role as a mother. Emphatic, perhaps, at a time when titled women were being criticised for not spending enough time inculcating their sons with the moral fibre necessary for empire building.

The careers of the Cockburn boys seem to show that Lady Cockburn, in this regard at least, was a success.
More paintings from the collection