Rubens: a master in the making
Detail from Rubens, 'The Judgement of Paris', about 1597-9
Antwerp
Peter Paul Rubens was born in Siegen in Germany, but from the age of 10 he lived and went to school in Antwerp.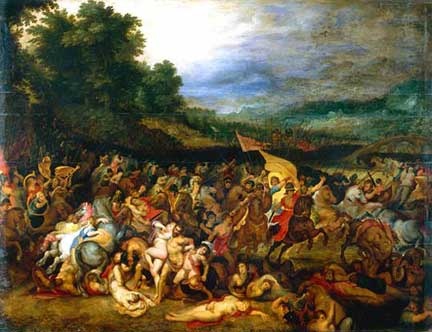 His first job, at the age of 13, was as court page to a countess. It was a prestigious position for a young man but Rubens found it stifling. He wanted to become a painter.
In around 1592 and now aged about 14, he left his place at court and began training as an artist in Antwerp.
Rubens served as an apprentice under three artists in Antwerp, the most important being Otto van Veen, one of the most successful and scholarly painters in the city.
In 1598 Rubens qualified as a Master painter of the Antwerp Guild. He could now practice as an artist in his own right.
Even before he set out for Italy, Rubens was copying Italian works (or at least prints taken from Italian works).
This detail from 'The Battle of the Amazons' shows him borrowing details of horses and figures in battle from Leonardo. The motif of plunging, biting horses was to recur in many of his early works.
Next: Venice and Mantua