Trafalgar Square to Tate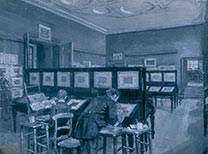 The opening of an extension to the Trafalgar Square building in 1876, known as the Barry Rooms (Rooms 32–38 and 40), enabled the Gallery to reunite the entire bequest in one place.

The unfinished paintings, along with the sketches and drawings, were returned to the National Gallery from South Kensington, joining the finished paintings and 'Dido building Carthage' and 'Sun Rising through Vapour', in Trafalgar Square.
However, as the National Gallery's collection continued to grow, space remained a concern.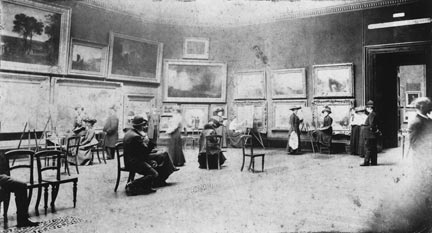 In 1910 it was decided to transfer the bulk of the Turner bequest to the newly opened Tate Gallery, which had been established in 1897 as an annexe of the National Gallery.
After the transfer a number of Turners remained on display at Trafalgar Square, either with the British pictures or in the Gallery's entrance vestibule.
In the period between the world wars the two Turners and the two Claudes were no longer exhibited with the French paintings and the four works spent much of this period also in the entrance vestibule. They would remain there until the outbreak of the Second World War when the entire collection was evacuated from London.
Next: The final settlement