Friends and family remember
Myra Hess's friends and family remember her as a loyal and funny woman who always had time for others despite her unwavering commitment to her art. On stage, she was a model of dignity and composure.
But once the performance was over, she would relax, often treating her friends to an array of parlour tricks that included playing the piano upside down or with an orange tucked under one hand.
Myra was much-loved for her earthy sense of humour, her ear for accents, and her range of impressions, which included an imitation of Queen Victoria for which she wore a lace doily and a dour expression.
If this text remains on screen after the page has loaded, please install Adobe Flash and enable Javascript.
Libbie Foster (neé Hess)
Libbie Foster remembers her aunt Myra visiting and remembers how down to earth she was: 'She'd play games with us, crawling on the floor and then as we got older, she was an inveterate card player.'
Actress Joyce Grenfell
Actress and writer Joyce Grenfell: 'Myra played scrabble with the malice aforethought of a Russian chess champion and was very hard to beat. She even hissed a little in a villainous way as she planned her next relentless move.'
If this text remains on screen after the page has loaded, please install Adobe Flash and enable Javascript.
Nigel Hess
Nigel Hess, a professional musician, met his great aunt Myra several times and recalls her sense of humour: 'The lawn was in the shape of a grand piano lid .. She was a great joker.'
Pianist Irene Scharrer
Childhood friend and fellow pianist Irene Scharrer: 'Each of us could always rely on the other in any emergency. So I was never surprised during the war years when Myra would telephone a last-minute SOS: 'My darling, could you possibly play with me at the Gallery today? So-and-so is ill, and I'm in despair.'
'Once, when the casualty happened to be a man, Myra made a little speech to the audience when we went on the platform, and I suddenly heard her thanking me for coming at such short notice, and for so kindly stepping into Mr So-and-so's breeches. Realising what she had said, she doubled up with laughter and the whole audience was in uproar.'
Diplomat Sir Paul Mason
Diplomat Sir Paul Mason: 'Her serenity was invigorating, not disarming. You did not go to her to be soothed but to be braced.'
Childhood friend, Clare Mackail
Childhood friend, Clare Mackail: 'Although she was the recipient of innumerable joys, sorrows, burdens or problems, she always seemed to have time to listen and to share them. Again and again she was the first to be beside someone in need, even though her engagement book was full, and there might be a train to catch; and again and again it was she who went on caring far beyond the normal limits of human sympathy and help.'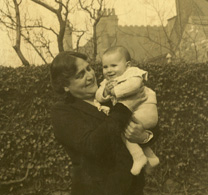 Arts administrator, Sir Steuart Wilson
Arts administrator, Sir Steuart Wilson: 'Myra was at all times and especially in our youth, the greatest fun and amusing company. One of her special parlour tricks was her pose as Queen Victoria with a lace-edge handkerchief as a widow's cap. Once, it is said, that she and Harold Samuel were discovered prone on the lid of a grand piano to see if they could play duets upside down!'
Next: More about Myra