Myra remembered
Discover more about the celebrated pianist Myra Hess, who organised classical music concerts at the National Gallery during the Second World War.
Biography
Julia Myra Hess was born on 25 February 1890 to a Jewish family in Kilburn, London. The youngest of four children, she began playing the piano from an early age, starting lessons when she was five.
In 1903, at the age of 12, she won a scholarship to the Royal Academy of Music, where she met her mentor, Tobias Matthay, who was to be instrumental in developing her talent. Her public debut followed at the age of 17, when she played the Queen's Hall, a famous classical music concert hall in central London, with the New Symphony Orchestra and its then conductor, Sir Thomas Beecham.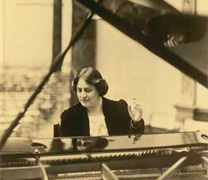 During the next three decades she toured extensively and rose to prominence as a pianist of the highest rank. But she is perhaps best-known today for the series of low-cost chamber music concerts which she initiated at the National Gallery at the outset of the Second World War.
The concerts were a great success and won her much affection from the British public. In 1941, she was awarded the D.B.E. (Dame Commander of the Order of the British Empire) in recognition of her wartime service.
Following the end of the National Gallery concerts in 1946, Myra Hess continued her musical career and toured extensively. The 1950s proved to be Dame Myra Hess' finest and has been regarded as her most sublime playing, recordings exist of many of her performances of the time; live Brahms' B-Flat Concerto with Bruno Walter and the New York Philharmonic in 1951. In his discussion of Brahms recordings, David Dubal said that many musicians consider her performance the finest on record. Myra's performances of Brahms Trios with Casals from the same decade are among the most celebrated chamber music recordings, as well as her incomparable recordings of Beethoven's Sonatas, Op. 109 and 110. Myra continually packed concert halls on both sides of the Atlantic.
If this text remains on screen after the page has loaded, please install Adobe Flash and enable Javascript.
Her last public appearance was at London's Royal Festival Hall on 31 October 1961, when she played the Mozart A Major Concerto, K.488, under Sir Adrian Boult. Myra Hess died on 25 November 1965.