Collection history
Find out how the National Gallery has grown into today's world-class collection of paintings in the Western European tradition.
The first paintings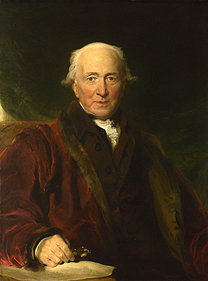 The first paintings in the National Gallery collection came from the banker and collector John Julius Angerstein. They consisted of Italian works, including a large altarpiece by Sebastiano del Piombo, The Raising of Lazarus, and fine examples of the Dutch, Flemish and English Schools.
In 1823 the landscape painter and art collector, Sir George Beaumont (1753 – 1827), promised his collection of pictures to the nation, on the condition that suitable accommodation could be provided for their display and conservation.
The gift of the pictures was made in 1826. They went on display alongside Angerstein's pictures in Pall Mall until the whole collection was moved to Trafalgar Square in 1838.

Next: Deciding what to collect