Transcriptions: Writing
'Transcriptions: Writing' is a project inviting MA Creative Writing students from Birkbeck, University of London, to write a short fiction response to a National Gallery painting.
Hans Holbein the Younger, 'Christina of Denmark, 'Duchess of Milan', 1538
Rebecca Cordingly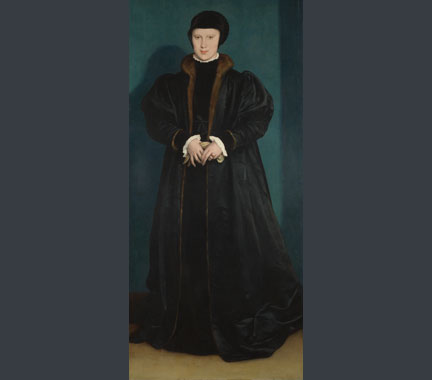 If this text remains on screen after the page has loaded, please install Adobe Flash and enable Javascript.
'Too proud,' he said, 'too proud, relax your eyes. Clear your forehead of lines. Think of your destiny. Not too sullen. A smile in the eyes.' My nose is itching.
He's asked me not to move but my fingers have locked out and my little finger no longer feels part of my hand. I want to look and check that it's still there. These gloves are turning limp, my sweat crushes, steams them out of shape. They will be stained, yellow, soured, the must of ageing leather. I twist them very slowly in my hands. He doesn't see.
Mannish. I look mannish in this coat. A huge, shapeless bear. Too hot. Pray god he makes my neck dainty.
I swallow back the turbulence inside. I will match his eyes with knowing, my calm will haunt his sleep.
'Your hands have grace,' the painter says. 'Put hope into your eyes.'