Transcriptions: Writing
'Transcriptions: Writing' is a project inviting MA Creative Writing students from Birkbeck, University of London, to write a short fiction response to a National Gallery painting.
Manet, 'Corner of a Café-Concert',  probably 1878–80
Emma Bradley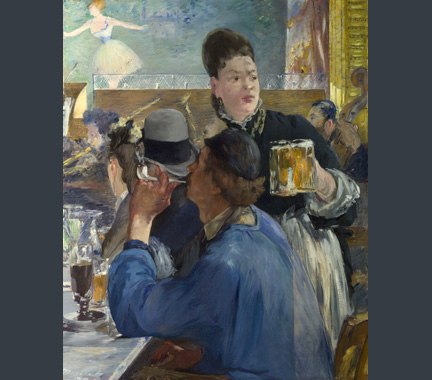 If this text remains on screen after the page has loaded, please install Adobe Flash and enable Javascript.
She dazzles in the lights. The musicians nod to the dancing baton, their instruments winking. The glasses flicker and chime. Even the marble shines, colluding with the gilded set. Him in the blue, with his smock habit, he lusts after her every night, his smoke dissolving like his pipe dreams. The cellist caresses his charge while she tiptoes on its strings. The punters all look past me, bewitched by her chicken limbs and made-up smile. Her tutu lifts and floats, light as a dandelion clock. My apron, sodden with spillage, drags the wooden floor. She pliés, he plays, I ply, they pay. That's the score. She's ethereal, I'm peripheral. Until I eclipse their thirsty gaze, by waiting tables. And then they see, I'm no garçon.
So now I'm centre stage. You see, beyond the brass, there's simply glass. She was never there at all. The tables turned.
Same again?