Transcriptions: Writing
'Transcriptions: Writing' is a project inviting MA Creative Writing students from Birkbeck, University of London, to write a short fiction response to a National Gallery painting.
Giampietrino, 'Salome', about 1510–30
David Quéva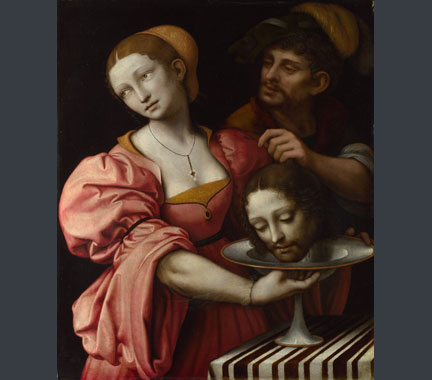 If this text remains on screen after the page has loaded, please install Adobe Flash and enable Javascript.
'No waitress ever lasted more than a week!', the cook told me the very day I started working here, at Herod's Tavern. 'It stinks!', he added, although I am not sure he was talking about the food. He then disappeared mysteriously and my boss, Mr Herod, said: 'Look Salome, I am sure you can deal with the problem. You can cook while checking on the customers at the same time, can't you?' I nodded and got on with it, but then a customer asked for a tête de veau. I looked everywhere and finally found one in the freezer. I cooked it as well as I could but when I brought it to the customer, he started complaining. 'Too much hair!' he said. 'Mr Herod is the one dealing with complaints. Shall I call him?' I asked, but the customer became quiet and ate his tête de veau with sudden relish.