Transcriptions: Writing
'Transcriptions: Writing' is a project inviting MA Creative Writing students from Birkbeck, University of London, to write a short fiction response to a National Gallery painting.
Pissarro, 'The Louvre Under Snow', 1902
Catriona Jarvis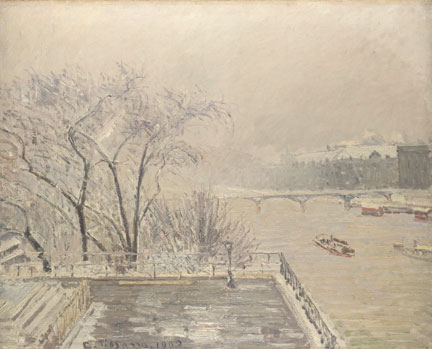 If this text remains on screen after the page has loaded, please install Adobe Flash and enable Javascript.
Dawn, masked in snow, presses, swirls up bare stone steps, past a solitary ornate lamppost, among rime-covered charcoal branches, and hangs momentarily over the empty Pont des Arts, obliterating half the river. In the instant nothing seems to move. No sound is to be heard. Then, the pervading icy, grey-white chill gives itself up, in wetness, to the Seine, to the shallow, hidden breath aboard the small barge, a blood-red stain, mid-stream in the thick waters, labouring eastward. The presence of the rising sun is reflected in a palest gold hue tingeing the clouds that half-clothe the river-banks. Almost imperceptibly it is morning. In the Musée du Louvre, les beaux-arts wait, in silence, unseen.