Transcriptions: Writing
'Transcriptions: Writing' is a project inviting MA Creative Writing students from Birkbeck, University of London, to write a short fiction response to a National Gallery painting.
Manet, 'Corner of a Café-Concert',  probably 1878–80
Michelle Shine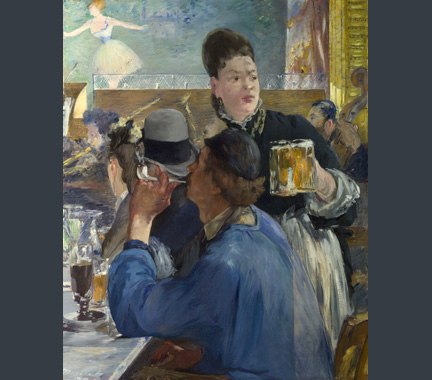 If this text remains on screen after the page has loaded, please install Adobe Flash and enable Javascript.
He is calling me over; that man called Manet, the painter who is married to that piano teacher Suzanne. He can't see that I am busy? Sitting majestically in his frock-coat and smiling over at me as if we are old friends. He will ask me as he always does if the café is now serving absinthe. I will say no, as usual; red wine, white wine, beer or café.
He likes the dancer, the music. He is sitting back in his seat and crossing his arms. Oh no, his friends are joining him now; Little Lautrec, Monsieur Degas and that madman who wants to be called only Vincent. Mon Dieu, anything can happen here and it is up to me to keep the rowdiness at bay. My boss will blame me for any disturbance; they will leave a good tip but I am not happy.