Transcriptions: Writing
'Transcriptions: Writing' is a project inviting MA Creative Writing students from Birkbeck, University of London, to write a short fiction response to a National Gallery painting.
Gossaert, 'An Elderly Couple', about 1520
Ingrid Glienke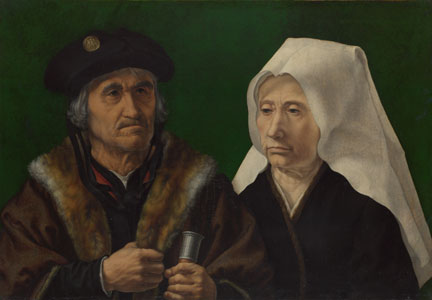 If this text remains on screen after the page has loaded, please install Adobe Flash and enable Javascript.
I asked him to keep on his coat, when he came in early this morning not telling me where he had spent the night; so his crumpled shirt wouldn't show underneath. Of iniquity we argued then, and he was thumping his stick onto the tiles. But I can guard my tongue when necessity demands it and from the walnut wardrobe in the hall, my father's wedding present, its doors creaking, swinging open, I took my own coat. As if we wanted to go for a walk along the canal on this sunny morning. My father didn't expect I would have just the trim of a good life when he promised the hand of his daughter to a foreigner, the man beside me, who didn't see we have it inside us, the cold. I did not look at his hand that should hold mine. I wish I had had a child.