Transcriptions: Writing
'Transcriptions: Writing' is a project inviting MA Creative Writing students from Birkbeck, University of London, to write a short fiction response to a National Gallery painting.
Caravaggio, 'Salome receives the Head of John the Baptist', 1607–10

Deirdre Shanahan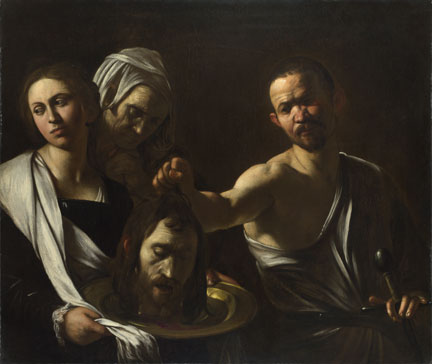 If this text remains on screen after the page has loaded, please install Adobe Flash and enable Javascript.
Put his face from me. His blood dark as pomegranates, stinks. It will stain my cuff. The weight of him pulls me down. My feet are heavy. I only wanted to dance but it wasn`t enough.
The serving girls talked of how he lived in the desert before he was imprisoned. He was wild and climbed among rocks. People travelled hours to hear him.
The captains and lords were drinking, taking full pleasure of meats and wines at supper. Their laughter rose. Herod was watching and listening. He always listened. I didn`t expect to please him yet he offered me anything, even half his kingdom. But you got what you wanted, mother, and I carry your prize; the preacher, his skin pale as the purest sand, his mouth gasping for breath.
Day slips into night. I am drained. My heart shrinks. I cannot bear the sight of his eyes. I won`t dance again for a long time.