Transcriptions: Writing
'Transcriptions: Writing' is a project inviting MA Creative Writing students from Birkbeck, University of London, to write a short fiction response to a National Gallery painting.
Sandro Botticelli, 'Venus and Mars', about 1485
Caroline Macaulay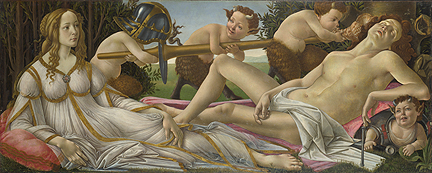 If this text remains on screen after the page has loaded, please install Adobe Flash and enable Javascript.
With hands as big as warships, Mars threw Venus onto the bed. And in her generosity, she indulged him, quite unperturbed. For Mars! He was the fiercest of soldiers wielding his most powerful weapon, thrusting faster, plunging deeper.
But Venus was not one to get lost in a storm. No, Love is as blinkered and dogged as war.
Up she rose to straddle the hips that crashed into hers with the fury of angry black seas. Holding him safe in Love, she brought their different worlds face to face, whispering all the time, 'I love you! I love you!'.
A deafening roll of thunder lifted from his head, thoughts of cut-throat skulduggery dissolved and slowly he was free from his defences. They grunted and groaned, their rhythm at last the music of two lovers in tune. And when his eyes rolled backwards in heavens of dazzling aqua blue, Venus roared like a lion.