Transcriptions: Writing
'Transcriptions: Writing' is a project inviting MA Creative Writing students from Birkbeck, University of London, to write a short fiction response to a National Gallery painting.
Moretto da Brescia: 'Portrait of a Young Man'
Thea Bennett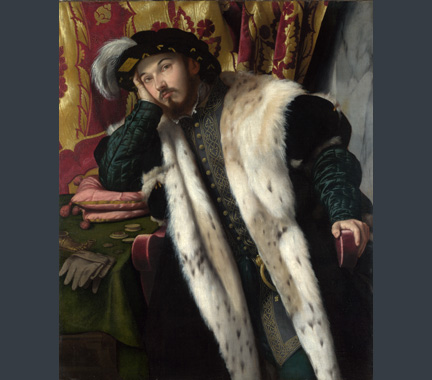 Full fed, I rest on plump cushions, clothed in quilted, embroidered silk. The apex of my craving for luxury caresses my shoulders. Snow leopard, rarest of furs. Swathed in it, I await repletion, the peace that follows the fulfilment of desire.
But I am in torment. Overheated, I long for high places, snow-strewn slopes under cold sunlight. Fat and soft, I grieve for lost agility, for wind whistling as I run. I am surrounded by greed, by sycophants craving my gold coins. I hunger for the privacy of a narrow rock ledge under an empty ice blue sky.
What is this pain that over and over stabs my heart as the tailor's needle pierced my sleeves? Thin mountain air sears my lungs, my eyes open wide to a sharper focus, pulling up and away from my padded cloister. Alas, I desire too much.