Transcriptions: Writing
'Transcriptions: Writing' is a project inviting MA Creative Writing students from Birkbeck, University of London, to write a short fiction response to a National Gallery painting.
Cézanne: 'An Old Woman with a Rosary'
Ros Kindersley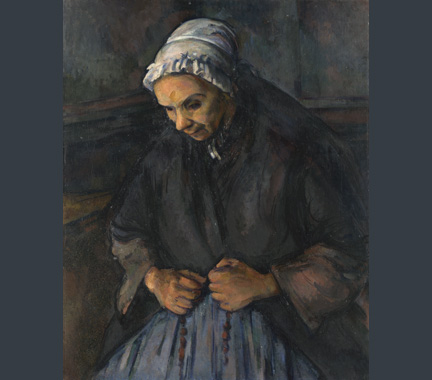 Leave her alone. Walk quietly away. She has nothing left to give and there is nothing more to be given to her. Ignore her hollow eyes drawn deep in desolation. Each bead a hard seed in her fingers as she counts the Mysteries and grasps the remnants of her faith.
My one prayer, she repeats, was to die before my children. And now I am no-one's mother, no-one's child. Hail Mary, Mother of God. I never chose to give my sons. It's not life I grieve, it is the lives unlived.
Cowered in the corner, sheltered in the last of the dusk, she hears a distant tune and catches the forgotten scent of incense swung from an unseen hand. Watch how the sapphire light falls into the shadows of her folds, dissolving in brushstrokes to where there is no time or place.