Transcriptions: Writing
'Transcriptions: Writing' is a project inviting MA Creative Writing students from Birkbeck, University of London, to write a short fiction response to a National Gallery painting.
Titian: 'La Schiavona'
Matthew Wright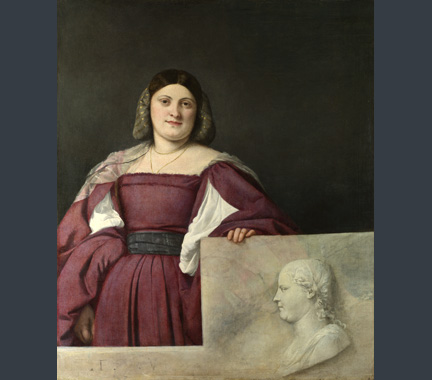 Tiziano Vecellio said:
'Do you wonder at my ham-fisted composition, with slabs of marble and black background crowding the unlovely bulk of my subject to one side? Well, life's like that. We're forever squeezed between the dark abyss and the vain attempt to be remembered in marble.
Seize the day is my response. Not just the day: she didn't have that "take your hands off the merchandise, Mr Titian" look earlier. Faintly, you can see "VVV" in the marble next to the "T. V." of my name. No, they're not practice letters! "Veni, Vidi, Vici". Like Caesar, I came, I saw, I conquered.
I love her right hand, bunched up coyly like a string of sausages! And those naughty billowing sleeves under the sober claret! You see the marble, blue and pink like quivering flesh? Where do you think I got those colours from? Hot flesh, not cold marble, wets my brush!'