Transcriptions: Writing
'Transcriptions: Writing' is a project inviting MA Creative Writing students from Birkbeck, University of London, to write a short fiction response to a National Gallery painting.
Daddi: 'Coronation of the Virgin'
Matthew Wright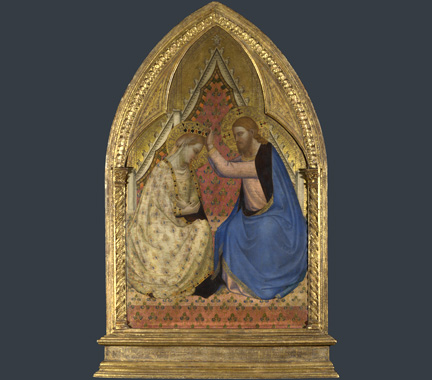 Many people are put off by this kind of painting. We like gold in its place, but that's in a hotel bathroom, not a portrait of the Son of God. One of the extraordinary inversions in the Christian story is the Son crowning his virgin Mother. Here the gold is just a contrasting background which draws our attention to the diaphanous figures underneath.
'Who's your Daddi?' we might ask these delicate pastel faces, who still, after 650 years, have shiny lips and rosy cheeks. The structure of the image helps us answer this question: the back of their throne, pointing directly up into the air, tells us that the Daddy is in heaven. Though He's absent, the sensitivity of the Son's touch as he crowns his Virgin mother makes their love and security shine like a halo over all humanity. The Daddy, Daddi says, is for all of us.