Transcriptions: Writing
'Transcriptions: Writing' is a project inviting MA Creative Writing students from Birkbeck, University of London, to write a short fiction response to a National Gallery painting.
Hammershøi: 'Interior'
Lesley Saunders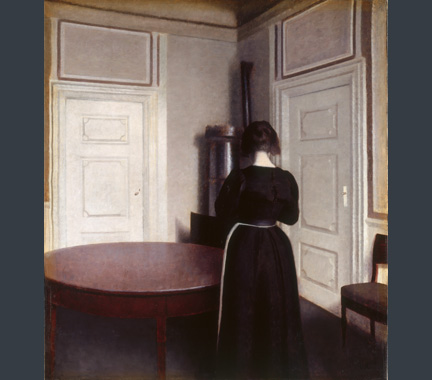 'Vilhelm insists on a calm household. He detests rude colour and ornaments. Clutter, he says, is the detritus of the soul.
'I have consigned our china wedding gifts to the basement because they would interfere with the Italianate line he yearns for. But no matter how much I strive for perfection, I fear for his sanity. This portrait of me, for example, is clearly unsettling. He has inserted two doors into the corner of the room, which do not exist. He has omitted the tie on my apron strings. Also, some of the buttons on the back of my dress are undone, and there's a gaping hole.
'This painting has provoked a recurrent dream in which we are pin people who live high up in a fruit tree, in the middle of an orchard. All around us is the scent of ripe apples.'