Transcriptions: Writing
'Transcriptions: Writing' is a project inviting MA Creative Writing students from Birkbeck, University of London, to write a short fiction response to a National Gallery painting.
Titian: 'Bacchus and Ariadne'
Ilona Jesnick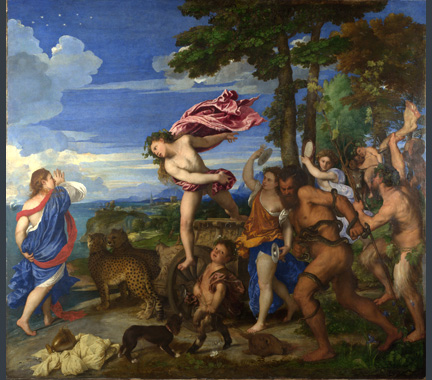 Always the same at parties: wild music, ecstasy, clumsy drunks and stoners spewing bad trip hallucinations they can keep to themselves, thanks. Jealousies made flesh.
A girl all wrapped up in herself, humming the blues. The old story, she's lost her man. Might have known he'd use her, leave her high and dry, wounded. But, hey! There's always another on the way. Look, someone's making a move. A bit showy, and OK, he's not a hunk, but there's something dazzles all the girls and guys. He's picked you, girl, says he'll make you a star.
Believe him? Believe that flash suit? That car he drives? Experience says steer clear, but you never know. See that fat drunk in the corner, can't stand up? Ask him, he's the one knows how the world works. Amazing, but true. He'll tell you life will never be the same again when you say yes.