Transcriptions: Writing
'Transcriptions: Writing' is a project inviting MA Creative Writing students from Birkbeck, University of London, to write a short fiction response to a National Gallery painting.
Savoldo: 'Mary Magdalene'
Ilona Jesnick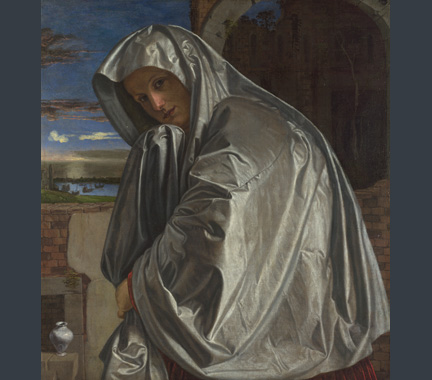 Secrets are best shared at night. Rumours spread easily, if that's what you want, streaming like quicksilver fish from mind to mind. Take care who you inform. On the Island of the Dead, a woman walks alone to a secluded tomb, moonlight trapped in her silk cloak. It whispers as she moves.
She knows so much more than she can reveal, but one astonishing story she'll confide. Will it be the truth? She wraps herself tight, drawing her knowledge close to her heart, and places her precious jar by a small opening in the wall; believes truth lies there.
A lifetime distant, a red dress glimpsed in a doorway beckons the unwary follower; passions rousing betrayals. The sea stores its cache of voiceless mouths, the shadowed city offers its multitude of corners. Footsteps echo in the dark, a cat oozes along a wall, its vantage spot disturbed. Is somebody watching?